As a kid I used to ride around the block my parents lived on, and there was this HUGE hill that was a TON of fun to ride your bike down and then we would swing to the one driveway at the end of it (I am not to sure the guy who lived that really enjoyed us using his driveway but he never said anything and would just wave at as as we did from inside his house). Bike riding brings back a lot of memories for me and this week I realized just how much I enjoy bike riding and that I do miss riding as often as I used to before kids. My goal in the next few weeks is to get a bike seat for my youngest to sit in so I can take the kids on bike rides, and then to get hubby a bike of his own so he can join us too. Yesterday I wrote about how I am going to be doing more for me and bike riding is one of those "for me" things, even though I will be taking my kids on rides with me too, it is something that I enjoy.
Please ignore the odd look on my face in this picture, it was HOT and I had a "brilliant" idea of not waiting for the laundry to be done and have a clean pair of shorts, from that point on shorts only and a t-shirt when I ride – Lesson learned 😉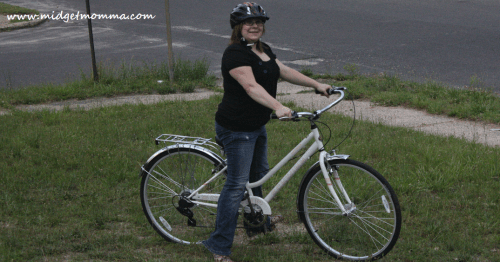 I love riding through grass and the woods, I am not sure why but there are times that it is just more fun then riding on the street, so I did take a ride around my backyard through the grass 😀
My technically first ride since getting my new bike was short, just up the road to the WaWa. Not a huge adventure but one that was really fun. There is not much to see on the ride other then the bridge which I love the look of the sky and trees that I snapped a picture of with my phone on my way.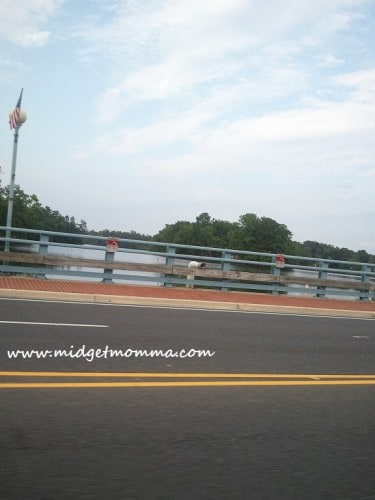 The blueberry U-Pick farm is not far from my house, just a few blocks and I have plans to take my kids there and have all of us ride our bikes in the next few weeks once I get a bike seat for the youngest one. That is going to be a fun adventure with them. I rode to the blueberry U-Pick farm myself and it was so much more fun then getting in the car to get there and I can't wait to go with the kids.
I had orginally planned on going to the Poconos and going for a ride there and plans to head to Long Beach Island and take a ride there as well (My 2 favorite places to visit) but sadly my adventure was cut a bit short when I had issues with my back brake, but Schwinn customer service was amazing and is shipping me out new back brake parts! The box says do not lay flat, and sadly when it was delivered to my house the guy laid it flat, which is what Schwinn says is why my brake cable came loose. So lessen learned here (even though I am not the one who did it) is that if a box says something like "keep upward", "Don't lay flat", ect listen to what the box says they do mean it and it can damage the product in the box if you don't.
If we've learned anything from more than a century of building bikes, it's that some things never get old. From that first taste of freedom, when the training wheels come off, to the wonder of a parent letting go, and all of the ups and downs in between, magical moments in life happen on a Schwinn.  Life's a ride. Enjoy it on a Schwinn.
"Disclosure: Compensation was provided by Schwinn via Glam Media.The opinions expressed herein are those of the author and are not indicative of the opinions or positions of Schwinn"
This post may contain affiliate links. Please read my disclosure policy here