This post is in partnership with P.F. Chang's Home Menu.All opinions are 100% my own.
Growing up whenever we went out to dinner my parents let us get a special treat, a Shirley Temple drink. When Tom and I had kids we started the same thing and every time the kids have a Shirley Temple. When we started making restaurant quality meals like P.F. Chang's Home Menu items at home the only fair thing to do was to also have Shirley Temples. Ok I fess up – I wanted to have Shirley Temples 😉
Only P.F. Chang's Home Menu offers restaurant-quality authentic Asian food, at home and it is sooo easy and quick to make, too!! It is a good thing they are quick to make, since P.F. Chang's Home Menu brings crisp, vibrant vegetables, bold sauces and enticing aromas to your home. When they are cooking everyone in the house will come in the kitchen to ask you over and over how much longer till dinner because it smells soooo good cooking! Thankfully it is less than 15 minutes of hearing everyone ask "how long until it is done"!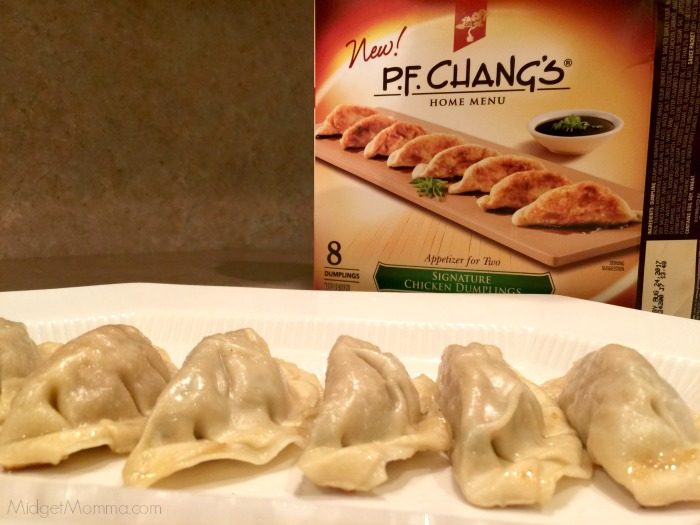 Of course when we are "dining out at home" appetizers are a must! We are HUGE dumpling fans so to have amazing dumplings with out all the messy work is a win in my book! There are two different ones to pick from: Signature Chicken Dumplings: Dark meat chicken, shredded cabbage, sliced scallions with a Signature Sauce packet and Signature Pork Dumplings: Ground pork, shredded cabbage, sliced scallions with a Signature Sauce packet.
I am telling you making these meals is sooo easy – Tom can do it with out messing them up!!
Grab the bags from the freezer section when you are at the grocery store. They just launched family size skillet meals in January, available in two varieties: Orange Chicken and Chicken Fried Rice, so there is plenty for everyone.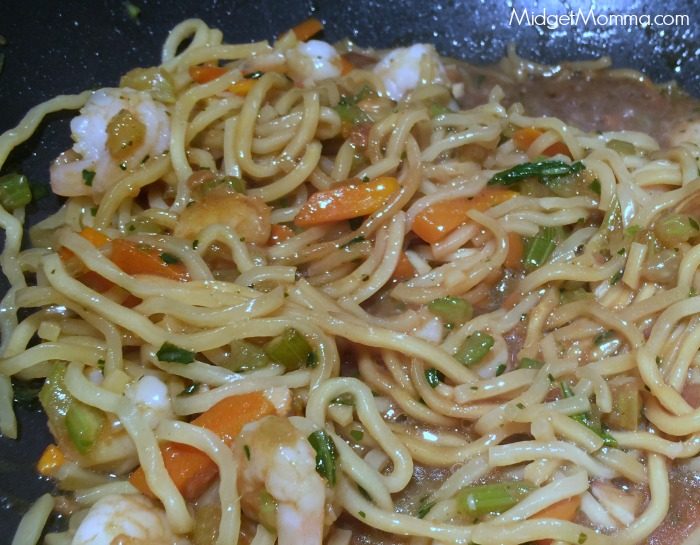 Then just heat them in a pan on the stove and then serve! All finished in under 15 minutes!! There are plenty of choices to pick from too!
Chicken Fried Rice, made with authentic Thai Jasmine Rice sourced from Thailand, Sambal, a traditional Asian ingredient that brings a little spice to the dish, white meat chicken, carrots and scrambled eggs. Orange Chicken, made with real Orange Peel and other carefully selected ingredients that allow caramelization of the sauce, replicating the wok cooking process. We also tried the flavorful Shrimp Lo Mein, made with succulent shrimp, fresh bok choy, mushroom, celery, carrots and hearty lo mein noodles. Oh I could go on and on about the tasty and easy meals but those are just a few!
Like the P.F. Chang's restaurant, the Home Menu features traditional flavors such as michu wine and oyster sauce, which are integral taste profiles in Asian meals. They make their sauce from scratch, just like at the restaurant, so you can make the meals at home while keeping the authentic Asian flavors.

Oh wait, sorry about that I totally got distracted talking about the amazing and yummy food thatP.F. Chang's Home Menu items are.  I was going to tell you about the Shirley Temples…. You have to try them along with your P.F. Chang's Home Menu meals. It will feel just like you are out to eat but in the comfort of your own home and you will have dinner fully made in under 15 minutes!
So now that I have made you all hungry… bring on the Shirley Temples!
If you have never made a Shirley Temple drink before, I have to tell you it is the easiest drink ever, but it looks oh so fancy. I honestly don't know why I only let the kids get them when we go out, when making them at home is so easy. When making them do yourself the favor and add in extra cherries 😉 Doesn't it just fit perfectly with the amazing meal from P.F. Chang's Home Menu!?! The kids loved the pairing and so did I!
Shirley Temple Drink
Shirley Temple Drink Ingredients:
Ginger Ale
Rose Grenadine Syrup
Ice
Lime Juice
Maraschino Cherries
Shirley Temple Drink Directions:
Grab a clear glass.
Fill your glass half way with ice.
Then pour in Ginger Ale filling to about 1/2 an inch or so from the top of the glass.
Add in a splash of lime juice, and then fill the rest of the glass with of Rose Grenadine Syrup. You can add more or less Rose Grenadine Syrup depending on how sweet you want it to be.
Stir and then add in however many Maraschino Cherries you like. We tend to go with 4 as the right number 🙂
For more Wok Wednesday inspiration, visit pinterest.com/pfchomemenu using #WokWednesday
I'm also hosting a giveaway! See below for details:
The giveaway prizes will be:
Grand Prize Winner: $500 Grocery gift card & Wok
Runners-Up: $100 Grocery gift card & Wok
Enter through the Rafflecopter below.
Explore More Wok Wednesday Inspiration HERE