So I just found this Daily Deal site Shoe Privee, and it has one of my favorite things to score deals on….. SHOES!!! Now what makes me in LOVE with this one, well all shoes are $39.95 or less and each month has specific shoes on sale, AND after the month is over and a few months go by they drop in price to as low as $19.95!!!
Check out these awesome red heels, they are $23. 97, add these to a little black dress or a pair of skinny jeans and a black sweater and make a hot out fit!
So you are probably like me thinking it really can't get better but it does because everything SHIPS FREE!!!!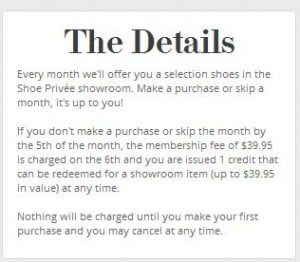 When you sign up make sure you read the details though because it is FREE to sign up, but after your first purchase you are activating your account and If you don't make a purchase or skip the month by the 5th of the month, the membership fee of $39.95 is charged on the 6th and you are issued 1 credit that can be redeemed for a showroom item (up to $39.95 in value) at any time. But you can cancel at any time so buy your first pair of shoes and cancel right after that if you do not want to continue a membership 🙂
Nothing will be charged until you make your first purchase and you may cancel at any time.
This post may contain affiliate links. Please read my disclosure policy
here