Ok so the title is a little bit off, it is technically my second trip however my last one was years ago and I walked out VERY disappointed and had never gone back. Until today. I saw online that they had blueberry pints and strawberries for only .99 so I thought I would give them a second chance. I am super glad that I did! I have been struggling with my local Price Chopper and their produce. I love the people there and I love the deals I score but the produce always drives me crazy. It seems like it takes me forever to find something fresh or that won't go rotten super fast and that no matter what I do it rots with in a day or 2 and I have wasted money.
At Aldi while much of the produce is wrapped in plastic (like the peppers, squash and other things) you can see the freshness, you can feel the freshness even with picking up the package.
I also found organic items like pasta, pasta sauce, and many other things that is quite a bit cheaper then even the nonorganic items that I find normally at my normal grocery store. So of course I went shopping.Totally not in the plan and I am totally sure I drove Tom crazy because we were only supposed to get strawberries, blueberries and take a peek at the store. Oops!
Shopping Trip to Aldi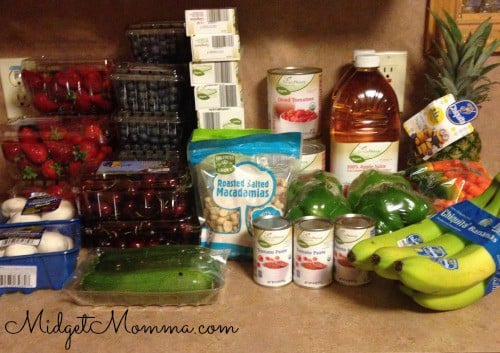 So for $68 and change I ended up with the following:
5 pounds of strawberries,
9 pints of blueberries,
2 pounds of cherries,
4 pounds bananas,
2 packages of mushrooms,
10 boxes organic pasta,
2 bags organic mini carrots,
3 28 ounce cans organic diced tomatoes,
2 organic apple juice,
a pineapple,
2 pounds green peppers, 1.19/lb (1.99/lb)
3 cans organic tomato paste,
HUGE bag macadamia nuts,
HUGE bag pistachios
a pound of green squash
The blueberries alone are normally $2-$3 each at the store I normally go to and same with the strawberries!! If I had bought the strawberries and blueberries at the store even at $2 I would have spent $28 and at Aldi I only spent $14 on them! The peppers are normally $1.99 a pound for me and it was $1.19 a pound. the mini carrots are $1.99 a bag for the nonorganic ones and I paid $1.79 for the organic ones! The 1 pound boxes of pasta were $1.19 each, normally pasta with no sale and nonorganic  is $1.49-$1.79 where I normally shop.
Also the blueberries label was for a farm that is very close to where we lived when we lived in new jersey and I have had their blueberries before so I was very excited about that!
I don't know if I can get over the no butcher part and buy meat there as I like to see where the meat is cut ect and have a butcher shop that cuts it but I know I will be going back with the prices of the things we saw there today!
Do you shop at Aldi?