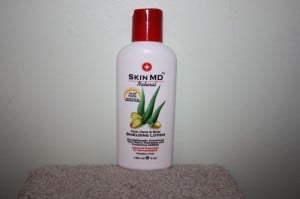 We live in the Poconos, of course the winters are cold and that means we have to turn the heat up. Turning the heat up means dry skin is bound to happen, and for me its not so much if it will but how long it will take for me to have dry cracking hands. I am a constant lotioner during the winter, and I mean every few hours I am grabbing the bottle of lotion.
When the Skin MD Natural lotion arrived I was excited to try it, hoping it would help with my dry hands lotion. I used the Skin MD 3 times a day the first 3 days and then 2 times a day for the past 2 days and I have been happy with my no dry hands! I like that I can put it on in the morning and in the afternoon and I don't have to worry about making sure I have lotion in my purse along with everything else I have to make sure I have.
Skin MD Natural lotion is made out of 93% natural, plant-based ingredients and manufactured in the United States!
Skin MD Natural has been awesome and is giving all of you Luxury Living Frugal Style Readers a 20% discount code! Just use code LLFS at checkout to get 20% off your order!
This post may contain affiliate links. Please read my disclosure policy here