This is a sponsored post written by me on behalf of Sky Zone. All opinions are 100% mine.
What are you to do when you have a group of kids, in different age groups who are all wanting to have some fun? We end up in this spot fairly often with some of our closest friends and the kids range from age 7 to age 14 and then Hannah who is 10 months old. Sometimes this can be a challenge to find something that they would all enjoy. Recently we were reached out to by Sky Zone to come and check them out. As soon as I got on their website I knew it would be the perfect place to go with all of the kids. So we partnered with Sky Zone to have a fun playdate with my kids and their friends.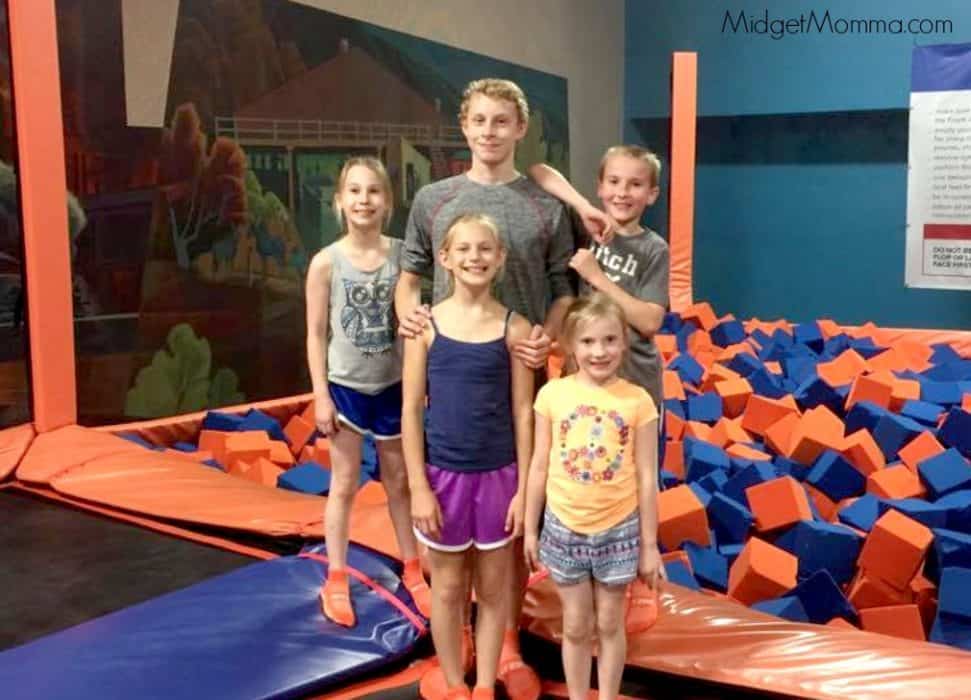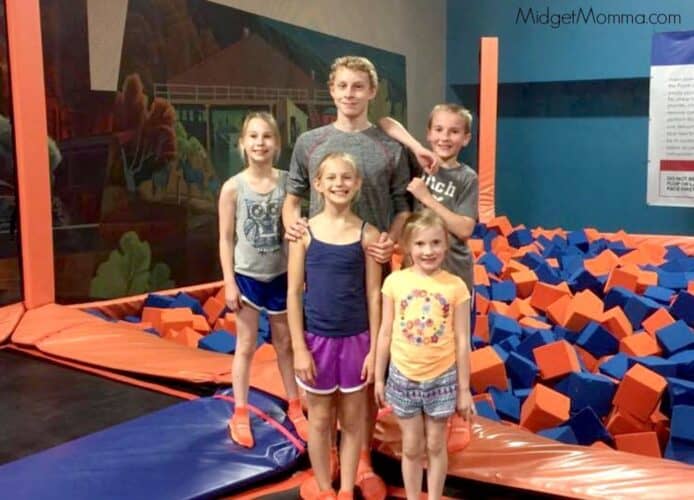 They have locations all over the country so you can Find your local Sky Zone and plan your trip easily! To plan your trip head to the Sky Zone website, and order your tickets online. I can not say how much I love that feature, because it makes it so easy to plan ahead! They have different options for jump times, and you can pick from 30 minutes, 60 minutes, 90 minutes and 120 minutes of jump time. Upon arriving to Sky Zone you fill out the waivers on the computer and then get your jump pass and you get your jumpsocks. Which you can preorder online if you need to, or if you already have them you can bring the ones you have with you. The kids wasted no time getting their socks on and rushing to get to the trampolines. However it is not just your standard trampolines to jump on! Sky Zone has multiple trampoline sections that keep the kids having fun and it also wears them out 😉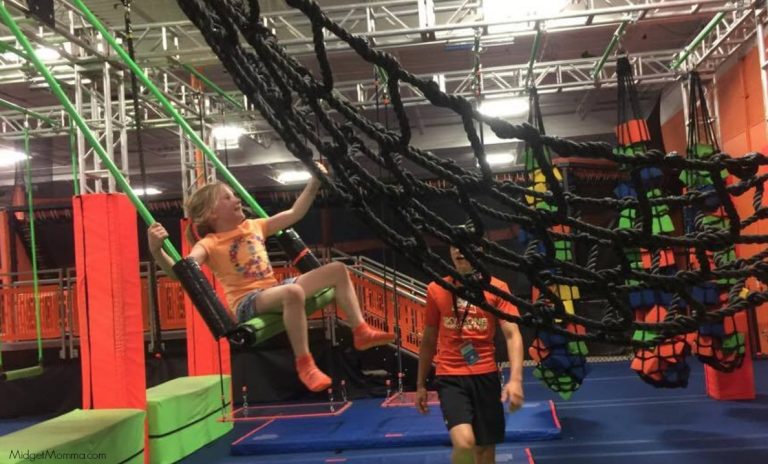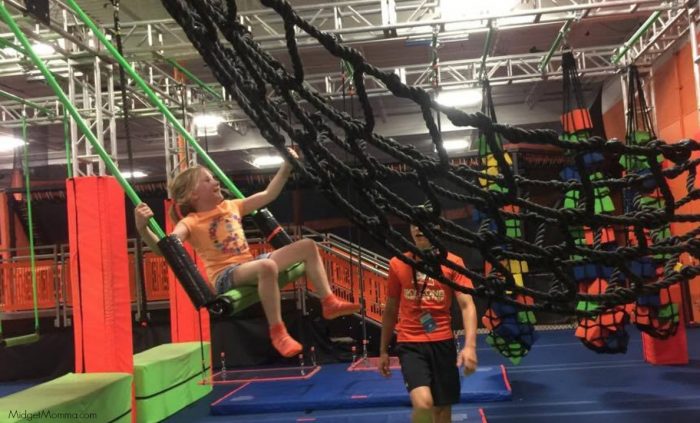 There are five different sections in our local Sky Zone: Freestyle Jump (basic jumping), SkySlam (basketball dunk hoops), Ultimate Dodgeball, Foam Zone and the obstacle course. There are some differences at each location however the Freestyle Jump (basic jumping), SkySlam (basketball dunk hoops), Ultimate Dodgeball, and Foam Zone are all standard at each Sky Zone trampoline park. They all enjoyed the entire park however their favorites were the Ultimate Dodgeball and the Foam Zone. The Foam Zone they were able to do flips on the trampoline and into the foam pit!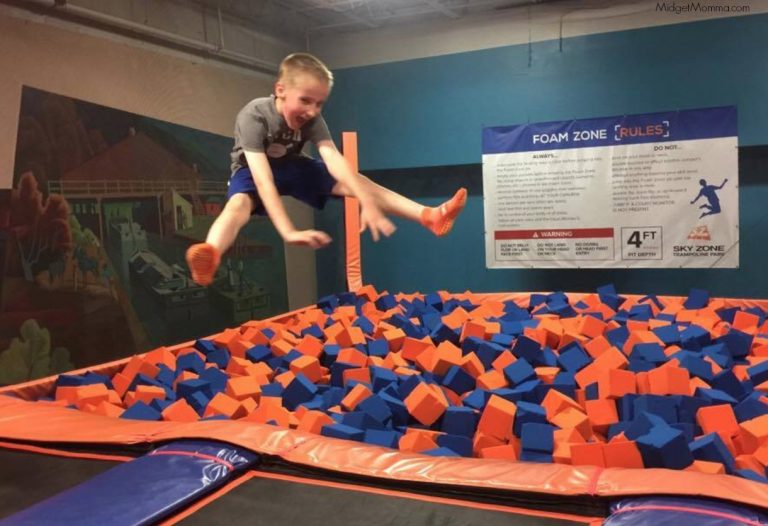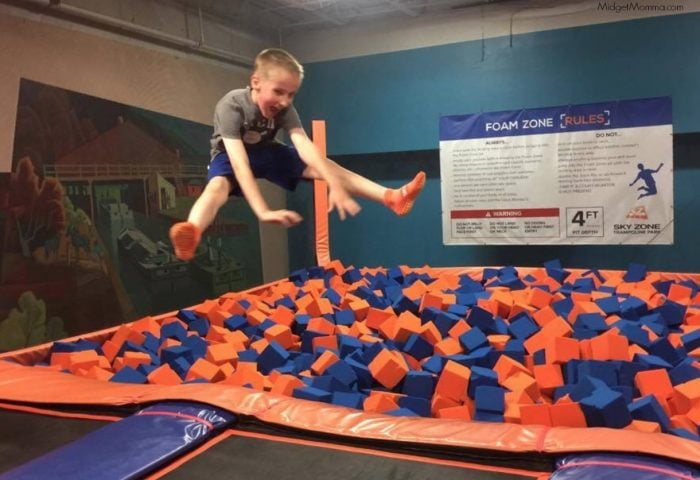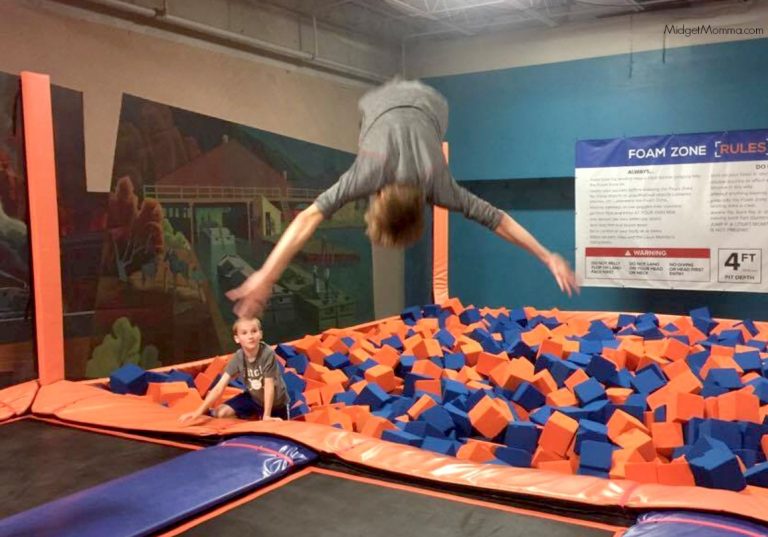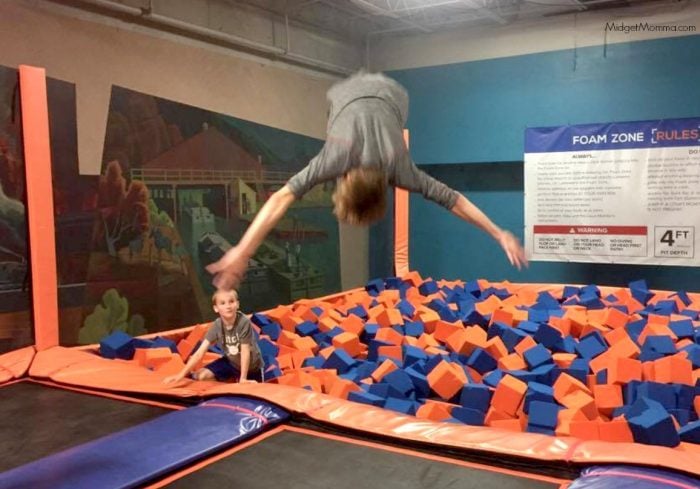 Ultimate Dodgeball was great because they all got to join in together and play 🙂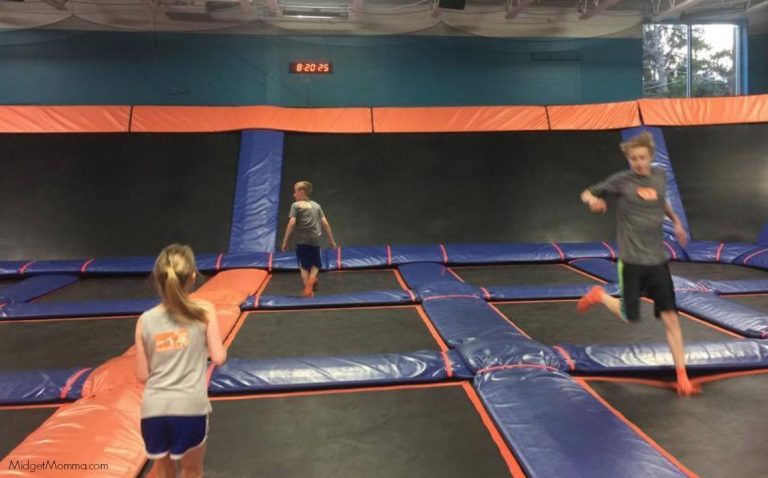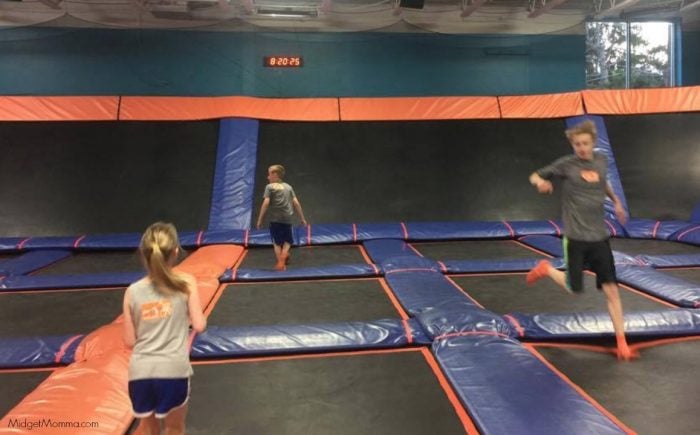 After the 120 minute jump time that we did the kids were all perfectly worn out! Which of course fun that wears the kids out so they sleep well at night is always a must for us moms 😉 If you have younger kids I would suggest the 60 or 90 minute jump times, because the kids while having fun did start to get tired as we got close to the end of it. However they loved it and it was a great activity to take them to and I see many more trips to the Sky Zone trampoline park in our future 🙂 Make sure you also check out the deals and specials they have, a few of the ones our local Sky Zone has are:
Get 6 one hour jump passes for the price of 4
Sensory Friendly Night where children and adults with special needs and their families to jump for 60 minutes for $8
Family Fun Night gets 1 hour jump passes for up to 4 people, 1 large pizza, drinks and SkySocks for $50
Sunday Night Jump deal gets 2 hours of jump time, pizza and a drink for $20
I also must add that I LOVE that they are so inclusive with having toddler times and times for kiddos with special needs. It is really perfect for all families to go and have fun!