Over the last few weeks we have gotten a bit off kilter with sleeping arrangements in this house, not to abnormal when you have an infant in the house and people have to work, go to school AND manage squeezing sleep in there as well. Tom has found himself on the couch and I have found myself with Hannah in our bed. I can't say I don't enjoy the night time snuggles with her as she gets all cozy in the crack of my armpit, but it does hinder things at times. We are currently at 78.9% Hannah wanting ONLY Mommy during the day and night time when sleeping we are at roughly 98.8% only wanting Mommy. The end result – Hannah no longer sleeping on her own nor wanting to sleep with out being next to me.
We did the bassinet for a while and that worked, until she decided that next to me was where she was going to sleep and nothing was going to change her mind. Nothing, it didn't matter if it was daddy next to her, that still was just not good enough. And so that led to me giving in and stripping my bed down to nothing but my pillow and her sleeping in the crack of my arm pit. A fully unsustainable way for us to continue sleeping. Can't get up to pee when baby needs the armpit to sleep, and my bladder can't handle that amount of time either.
Even more unsustainable when getting the other kids off to school in the mornings – Tom had been on morning duty and I wanted to take it back. I missed the mornings with the older three kids and getting them off to school. Only one problem – Hannah's sleeping and need to be in my armpit. And so the adventure of getting her to sleep at least a LITTLE (the time it took me to get the kids ready for school) in her pack N' Play began. I tried the rocking, the snuggling till she was asleep and putting her down – as soon as she felt the mattress under her she was "Eyes wide open". I tried moving her from fast asleep in my armpit to the pack N' Play – again "Eyes wide open" as soon as I laid her down. If I picked her up back to snoozing – lay her down "eyes wide open". With Eyes wide open I should also had a horrible scream that if you didn't know any better you would have thought her right leg was being ripped off.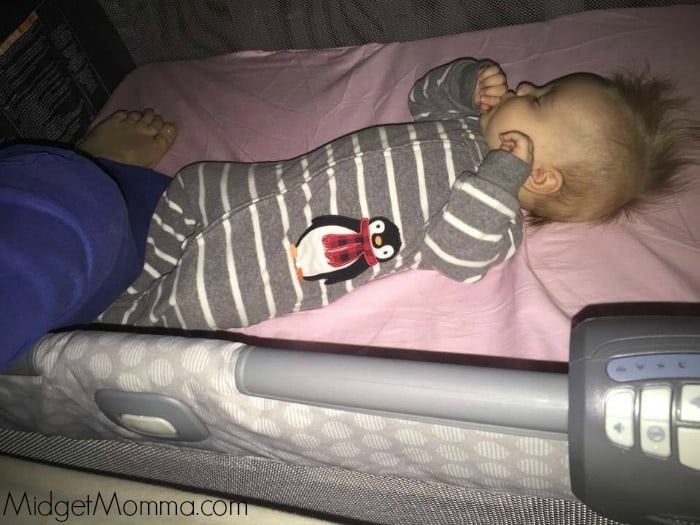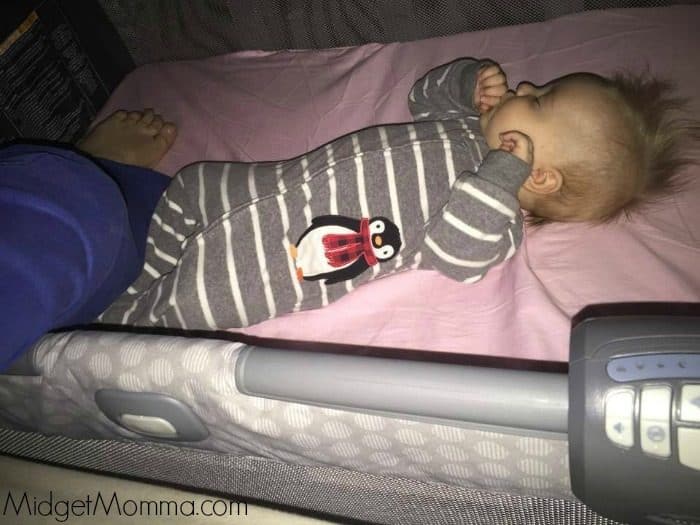 And so this morning I found myself while trying to get her to stay asleep without me after getting McKenzie to the bus stop so I could get the other two ready to go to school, with my left leg next to her little self from my bed over the edge of the pack N' Play. Why my leg? Apparently her legs had to be touching me in order to stay asleep and get fully settled back to sleeping. I tried my arm and that was a no go, thought ok well let's try a leg (Ya know random Mom thought) and…. It worked! With in 5 minutes of my leg being in the Pack N' Play touching her leg she stopped schooching all around and went to sleep sleep!!!! Plus when I slowly removed my leg from the Pack N' Play she stayed asleep!
She stayed asleep for the duration of the time I needed to get the other two out the door to school and then drive them to school – because the first day back after Christmas break no one was fully ready to go back to school and then some (enough for me to write this post, empty this dishwasher and get started on my work for the day).
But ya know what… Sometimes you lay down with your leg in a Pack N' Play because that is what we do as a Mom.
And if you are wondering why in the world I took a picture of my leg in the pack N' Play…. I am a Mom and a Blogger it's what I do 😉