For all of you who are in the local area and are looking for a great place to take the kids all year round Sahara Sams has become a place my kids are begging to go back to. We recently took an afternoon trip to have some indoor water park fun and it was a fight to get the kids to leave! With all three of my kids being different ages there are times that when we go somewhere one of them either can't do anything or everything or someone is bored, but at Sahara Sams all three kids were happy.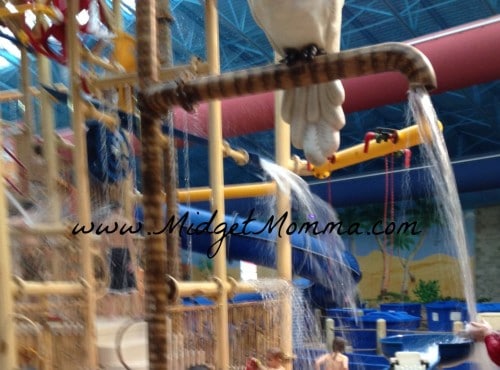 I took all of them myself and as scary as that sounds in a waterpark it was super easy to make everyone happy and have them all monitored. We started off at the "Water park" that is filled with different water spraying spots and a huge bucket of water that spills water on you every so often, 2 water slide and a little kids slide. While the older two went up and down on the water slide my youngest enjoyed the small slide. It was easy to watch all three of them at the same time standing at the top of the little kid slide since the big kids had to pass me on their way up to the slide and I could see them when they got to the bottom.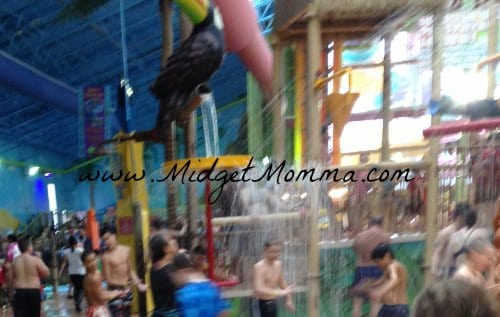 We all headed over to the "baby/toddler" area which has a wading pool area and 2 slides. All three of the kids enjoyed going down the slides, even though the older two said there were to big for them they were smiling and laughing as they were going down the slide. The slide was perfect for my youngest one to go alone after a few trips down with one of her siblings in the slide next to her.
There is a 3 foot pool that you can swim around in and play basketball in, while the kids were a bit to short to play basketball they enjoyed swimming and splashing around.
There is also an obstacle course and 2 large slides that we did not get a chance to check out because it was me with all three of the kiddos. For those activities having hubby with me is needed.
You can also take a break as you float along the lazy river, which the kids all loved going under the spots where the water falls on your head 🙂 When you are getting off this make sure you get the attention of the life guard so that you don't end up going around another time when trying to get off the ride yourself 🙂
For the older folks there is also a surfing "ride" where you can ride a real surf board on a wave pool. It looks pretty awesome, however I have never surfed so I don't know if I would try it.
What I really like is that every slide at the top and the bottom (except for the baby slide, only at the top because parents wait at the bottom) there is a life guard.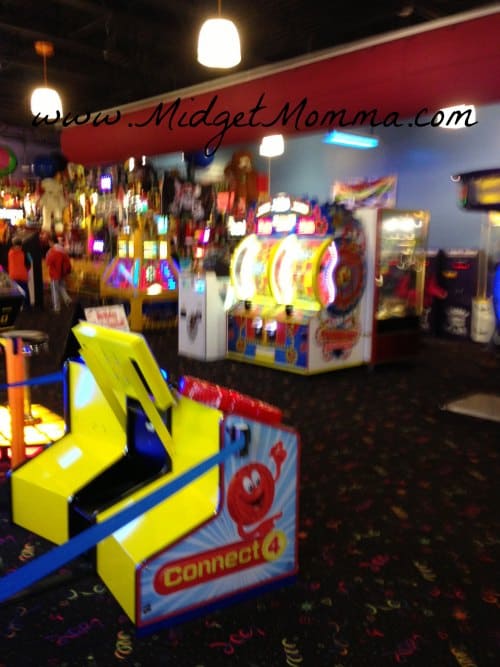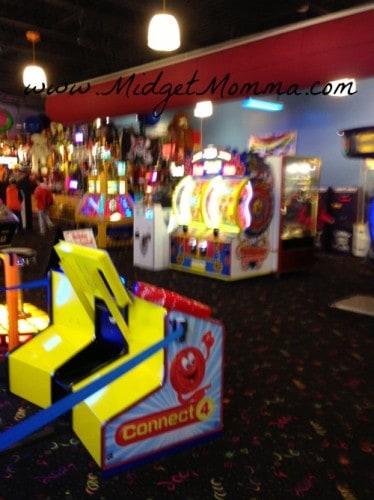 Once you are done in the water park, or if you want to just dry off for a little bit and take a break you can head on into the arcade and play somes games. They have tokens and tickets like you would expect from any arcade. I found the claw games to be fairly easy, and was able to win each of the girls a necklace and my son a stuffed Angry Birds 🙂
If you are spending the day there they do have a cafe, we went after school and before dinner and didn't eat while we are there so while I can not tell you if the food is good I can say it smelled good:)
I am looking forward to going back with the kids and testing out the outdoor waterpark when it gets warmer!
MidgetMomma readers are super lucky too because you all get to score exclusive Sahara Sams Coupons for when you go to visit 🙂
Disclaimer: I was provided tickets to facilitate my review. No compensation was received for this review and all opinions are 100% my own.