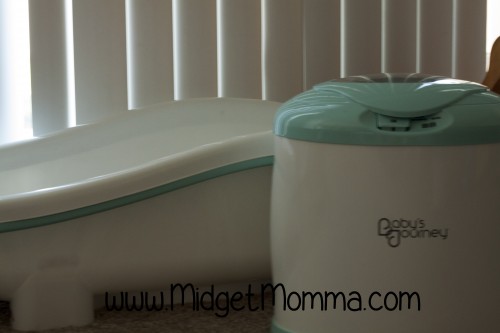 Baby E loves his baths. When he is colicky it is the only thing that will relax him. I love the comfy cozy tub & towel warmer by Baby's Journey. Baby E gets to relax in comfort in his own hammock in his bath tub. This hammock is great because he is not slipping around. It makes it so he still gets to be in the water but in a safe way. Later when he gets older this hammock can be removed when he is able to sit up on his own. This tub is great because you can adjust the height of the tub so you don't have to bend over as far to reach your baby. I have seen people on pinterest having to put a laundry hamper in the bath tub to keep there one year one in one spot and to keep there toys next to them. With the size of this tub you don't have to worry about that. It is large enough to hold a baby up to the age of two. This means you will be saving money because you will not need to fill up the whole bath tub just to give your one year old his bath. My toddler wanted to show how big this tub is by putting her doll in the tub.
Now if you are really looking to spoil you baby check out their towel warmer. This towel warm is large enough to hold two baby towels or one adult size towel. With baby A I would always have to hurry up after her bath because she would start shriving and it would break my heart. I don't have this problem with baby E. I even use this for myself and its so nice to have a nice warm towel after a nice warm shower.
Product Details
Tub

Detachable legs adjust height for easy reach
Patented Roller-Sling comfortably cradles infant and retracts out of the way for toddlers
Dimensions: 29"L x 17"W x 13"H
Extra-large tub for up to 2 years old

Towel Warmer

Warms full-sized towels in 10 minutes
Safely warms hooded towels, onesies, and blankets
Auto shut-off
Power AC/120V (60Hz)
Dimensions: 12"L x8"W x 12"H; weight: 6 lbs
Disclaimer: I received product free of charge to facilitate my review. No compensation was received and all opinions are 100% my own.