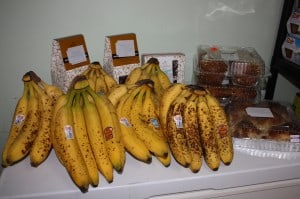 Yes you can splurge and save money at the same time!! It is my favorite way to get myself (and the family) yummy treats. Last night I was at the grocery store and saw Godiva Chocolate Brownies and Cookies(if you don't know about me and Godiva we have a love hate relationship, I love ALL their stuff but hate the retail price) But I was in luck they were 50% off! Ok yes the regular price is $5.99 for 4 small brownies or 5 cookies, but they taste sooooo good! Well as a treat I picked up 2 packs of cookies and 1 thing of brownies and while it was a splurge I still did not pay retail price for them! So I saved and splurged at the same time!
I also snagged muffins and apple breakfast bread for 50% off as well as treats for the kiddos.
But that was not the best find of the night, as you can see by the picture I snagged a TON of bananas! pounds to be exact. Why so many, well they were .20 a pound and they are perfect for making banana pancakes, banana bread and banana muffins to stick in the freezer so we have easy breakfasts:)
While it is cheaper to make brownies and muffins at home splurging and getting a special treat while saving money on it is a wonderful thing!
What have you splurged and saved money on at the same time recently?