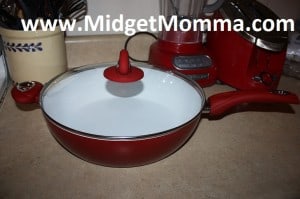 So I have to admit this that when I cook I am normally doing a whole bunch of other things at the sametime and there are times that I "forget" that I am cooking and that means that what I was making is most likely stuck to the bottom of  the pan, well recently that changed when I had the chance to review the Bialetti Aeternum 12-Inch Covered Deep Saute
 from the Bialetti Aeternum Cookwear line.I was in love when i opened the box because it was red and matches my kitchen (which is black and red)  but then the first night that I used this pan I was in love even more, like seriously in love with a pan (and no I am not exaggerating I am serious!). I used it while making scrambled eggs for dinner one night and fell completely in love with it(don't think I am crazy but this skillet is AMAZING).
Before explaining why I was in love check out this picture of my eggs cooking in the pan!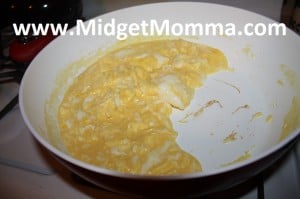 Nothing was sticking to the bottom, (and I even forgot to stir my eggs at one point because i was helping my daughter with her home work!)
Now check out this picture, this was after i scrapped the eggs out of the skillet with just a silicon spatula!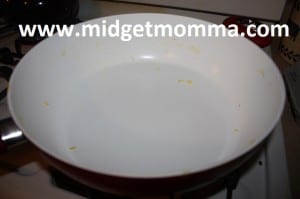 Do you see that!?!?! NOTHING to scrap off the pan, yes there are a few little pieces of egg still in it but nothing that needs to be scrapped off! And to make it better I did not use any cooking spray or anything on it when I was cooking and that is with forgetting about them!
There are not many things that I rave about like this when it comes to kitchen gear but I am currently trying to convince hubby to let me get all brand new pots and pans and have them all this (shhh don't tell him that I also think it would help him from burning things since he has issues with burning things even if he is watching the stove!)
They are made with white, nano-ceramic coating, so on top of being so AWESOME and non stick you can see if there is stuff stuck on the pan when you are cleaning it!
And cleaning them, well no sponge needed (unless you want to lol) because everything will come off just being rinsed with water (Please make sure you use dish soap and wash it but I tested using just water to see if the stuff comes off and it does!!!)
Bialetti has a whole line of Aeternum cookware including, 2-Quart Covered Sauce Pan, 8 inch, 10 inch and 12 inch saute pans, and the 12 inch deep saute pan that I am showing you here!
Ok and as if they can't get any better they do, because they are Eco-friendly! Yes they got better then what I have already told you!
The Bialetti Aeternum line can be purchase from Bialettishop.com or on Amazon with a retail price of $19.99-$69.99.
Keep up to date with Bialetti USA,  on Facebook🙂
Thank you Bialetti for sending me this skillet to review, not only making my cooking easier but my clean up to!
Join the newsletter
Subscribe to get our latest content by email.
This post may contain affiliate links. Please read my disclosure policy here