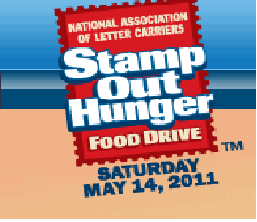 I apologize for completely forgetting to post this earlier in the week, but tomorrow is National Mail Carriers Stamp Out hungar day! Leave a bag filled with Non-Perishables and your mail carrier will take it and deliver it to a local food pantry!
Here are some very true and upsetting facts about Hungar in America and as couponers we can do A LOT to help!
in 2009 over 50 million people lived in food-unsecure homes
1 in 3 of all people who are hungry are children
1 in 8 Amerians rely on Feeding America for their food
Over 50 MILLION people do not have enough food!
Over 17 MILLION of that 50 Million are CHILDREN!

That above is a chart about my area!!! from Feedingamerica.org
I know it is blurry but it says
Population :12,516,596
Poverty Rate 12.1%
Food insecurity rate 11.8% (that means that roughly  1,376,825 in MY area do not have the guarantee of food!)
Child Food Insecurity rate 17.4%
Find out more information about Stamp Out Hunger and how you can help here
I have never been in the shoes of someone who has been with out food so I personally do not know what it is like to be there, but a bloggy friend of mine does and when I heard her story it touched me. We all as couponers can help, yes there are those that coupon because they need to to be able to put food on the table, but those free items we see each week event if you won't use them pick them up and donate them. We can make a difference! I truely believe that we can all make a big impact working together!  So even if it is just a can or 2 of soup from your pantry, if you can put it out for your mail man today! Even the smallest donation can make a big difference!
This post may contain affiliate links. Please read my disclosure policy here