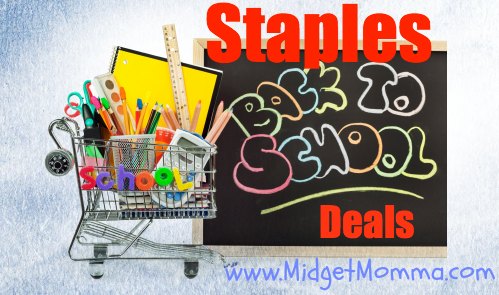 The back to school deals have started already so make sure you get them each week so when school time comes you don't have to spend a TON of money to get everything your kids need.
Staples has an Easy Rebate program, that will help you score deals on back to school supplies and it is easy to do, just purchase the item and then come home and go to the website that is listed on your receipt, fill our the rebate information and your rebate check will be on its way.Limit one Staples Rewards account per person or at any mailing address. You are able to request your rebates to come back as either a check or as a paypal payment.  Staples Rewards are issued monthly when the value of the Reward is at least $10. Monthly balances of less than $10 will roll over each month until the minimum is met for that calendar quarter. If the $10 minimum for the quarter has not been met, the balance will expire at the end of the quarter. For full program details, visit StaplesRewards.com Staples accepts manufacturer coupons, Staples store coupons and Internet printable coupons. At this time they do not double and there is no limit on how many you use of like coupons. Some items require a $5 minimum purchase but that is easily doable by buying the free after rebate items to get your total above $5 at purchase and then submit your rebate making everything the best price you can get.
Staples Back to School Deals 7/7- 7/13
There are a lot of great deals that you can get this week at Staples to get ready for back to school!
Penny Deals: 
Staples Erasers 12 count pack – .01 (limit 2)
Staples 3×5 inche index cards 100 count pack – .01 (Limit 2)
BIC Ball point pens 8 count pack – .01 (limit 2)
Other Back to school deals at Staples 
Staples® 8.5″ x 11″ multipurpose paper, 500 sheets/ream – $6.99 get $6.98 Staples rewards – total .01
Avery® insertable dividers, 5 tab – .25
BIC Matic® Grip 0.7 mm assorted mechanical pencils, 6/pack – $1
1″ simply® view binder – $2
Westcott® 9″ recycled scissors – $1
Staples® pushpins, 100/pack – $1
This post may contain affiliate links. Please read my disclosure policy here