Key in the Star Wars music and get all your Jedis in the house around the TV tonight! While we all know that with the Star Wars Rebels there are only a few Jedis left in the world tonight is the night that they all must come out and support the rebellion!

Star Wars Rebels Premiere on Disney XD
Star Wars Rebels" premieres tonight with a one-hour movie "Star Wars Rebels: Spark of Rebellion,  FRIDAY, OCTOBER 3 (9:00 p.m., ET/PT) on Disney Channel — perfect for a family movie night!  The half-hour series will premiere on Disney XD on MONDAY, OCTOBER 13 (9:00 p.m., ET/PT).
I sat down last week to talk to Freddie Prinze Jr and Dave Filoni about Star Wars Rebels, and in my house we were already all excited about this series and now I am even more ready to go and grab a light saber and get this rebellion started!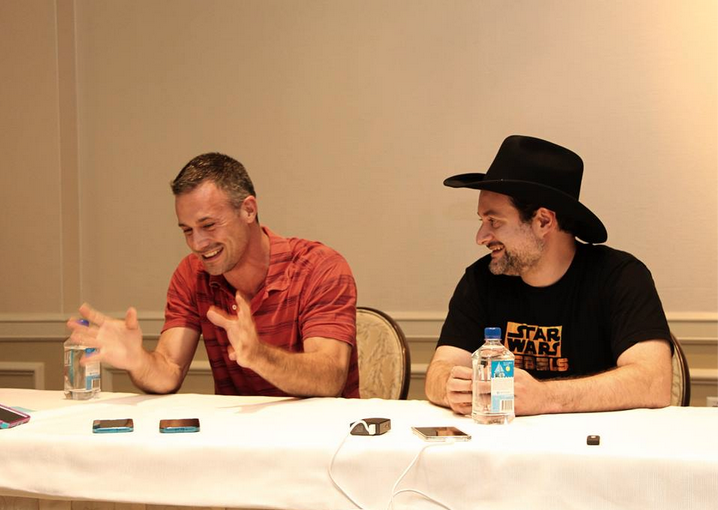 There are some quite interesting facts that I learned about Star Wars Rebels when talking to them that I think is going to make you Star Wars loving hearts explode 🙂
No one who auditioned for the roles had any idea that they were auditioning for a Star Wars series. That information was left out of the script.
Freddie Prinze Jr
I didn't know it was Star Wars. It was  titled Wolf Pack. And you'll have to speak to him about that. But, I went in and I saw some Character breakdowns on the wall at Disney and I looked at them and I'm thinking, these guys are either ripping off Star Wars real bad or this is a Star Wars. There was another girl in the Waiting Room and she was reading for Tia's Character and she looked super nervous. And when she came out of the room, it was like this is definitely Star Wars. So I asked them and I think I said a word that I shouldn't say, this first Table run. I said is this bleeping Star Wars? And then and then he kind of sits back, he sits back there, he sits back and he kind of like nods his head all cool and I was like All right, give me a second. I've got to turn around and compose myself and then get prepared. Instead of a Light Sabre, I had a Sun Sword, which Thunder the Barbarian had from Hanna Barbera.
Of course one question all Star Wars fans have is, why was this created?
Dave Filoni
We were kind of wrapping up the Series, Clone Wars with the big Disney purchase, you know, it was time for a change Fans, felt very strongly about the Show. It didn't air so long, so many years. But in all honesty, it just felt like something that we probably shouldn't continue without George. It was just a part of him and his creation and working with him was like an experience I've ever had. So we wanted to come up with something new that represented this kind of new era of Star Wars and working with, Lucas Films Story team, we all quickly came up with the idea of Star Wars Rebels, carried back, the Story Team introduced the idea to make an A-Team like scenario and, it just makes sense.
When I first told Logan about the new series he asked me, Why is Luke not in the show? and I got that answer for you too!
Freddie Prinze Jr
We didn't want to repeat Luke so we did Soka. And then we did Ezra cause we didn't want a repeat of Soka, so instead we made the Women Characters ones that didn't have the force, ones that could be tough on their own. So when we direct like Hara, I say, I want you to say and be and do any of the lines you would have given Hans Solo. I don't want you to change them in any way. You know, I want this Character as a Being that would react like Clint Eastwood when he got shot. Don't make her, don't diminish in any way or color it any way that you think has traditionally been. You see, I get schooled on this on a daily basis at home by my Wife and honestly, she's a way better Storyteller than I am.
This series was made fast, (but trust me the quick development of it did not affect it, I saw the premiere episode and all of us will be watching it again tonight when it airs on Disney XD!
Dave Filoni
Oh it went so fast. We made this Show very quick, because we wanted to film in the time prior to Episode 7. You know, that's gonna be this thunderous amazing thing that, but it was gonna take time to produce so we wanted to get an Animated Series up ahead to kind of get kids up and going with Star Wars, and in this new world and so it was one of the big challenges when we were sold. So it was gonna be very hard to cast quickly and my feelings was that you just, you know the right people when you hear them, when you see them. So we met everybody when they came in and, we just brought in a group of people and pretty much without fail, uh, Simon Kinberg, Greg Weisman and I always would give high marks to the same people. Like I said, we've been so lucky that creatively, we've all collaborated really well, Lucas Film. And we've all pretty much agreed on the decisions. It's really rare, so we would pick our top people and we were like Wow, I agree, I heard he is really good. So um, you know, and uh, it's — it's really turned out. I like to judge things, um, you can be really talented but if you're not a good person, if you're not gonna be collaborative, then I don't want to work with you. Talents not gonna outweigh that. I think that's the important thing, for young people. If you're really talented and you're arrogant, I don't want to work with you. I want somebody who's hard working. You know, right?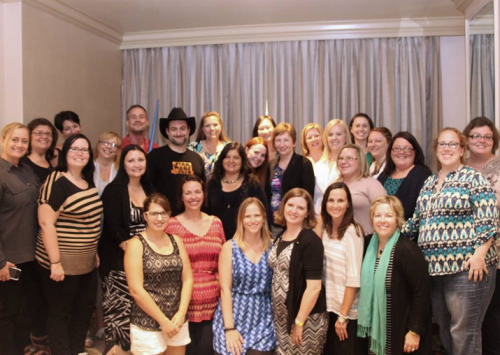 Disclaimer: I was invited to an all expenses paid press trip with Disney. No compensation was received and all opinions are 100% my own.