WAHOO!! I am so excited! The Starbucks BoGo is back! Starbucks will be offering Buy 1, Get 1 FREE Holiday Drinks Tomorrow December 6th after 3pm!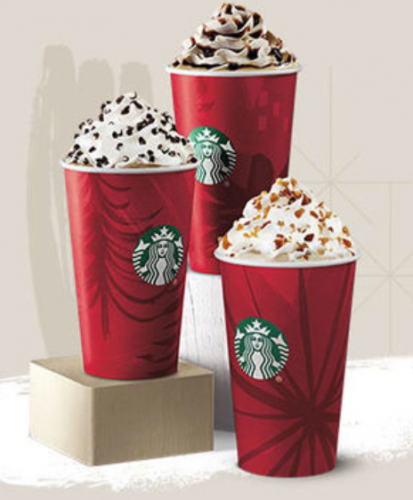 Starbucks Buy One Get One FREE Holiday Drinks
This offer is part of the Starbucks Happy Hour Event. – Oh how I love Starbucks Happy Hour! 🙂
To score this buy one, get one free deal, check your Starbucks app and(or) your inbox or head here and sign up to receive a code which you can then show the barista on your smartphone. You will also be notified about future events like this and exclusive deals on drinks and food!!
Choose from Peppermint Mocha, Toasted White Chocolate Mocha, Caramel Brulée Latte, Eggnog Latte, Juniper Latte, and/or the Chestnut Praline Latte (hot, iced or as a Frappuccino)! This deal is valid on drink size Grande or larger!
If you're a Starbucks Rewards member, you'll also earn stars towards FREE Starbucks drinks!
I will be taking a trip there to snag a Peppermint Mocha, well technically 2! What will you be getting?