Woot Woot! Time to get our Starbucks Holiday drinking ON! Today only get your FREE Starbucks Red Cup when you buy a drink at Starbucks today! I for one am going to be treating myself to some Peppermint Mocha! What will you be getting?
Calling all Starbucks fans you are going to LOVE this one! Starbucks holiday cups and beverages are back tomorrow, and this year there's a deal!
Free Starbucks Cup on November 7th!
Today, November 7th, anyone who order a holiday beverage of any size will receive a free Limited-Edition Iconic Red Reusable Cup.
To get this deal, just head to a participating company-operated and licensed store nationwide and order a holiday beverage and you will get your free Limited-Edition Iconic Red Reusable Cup!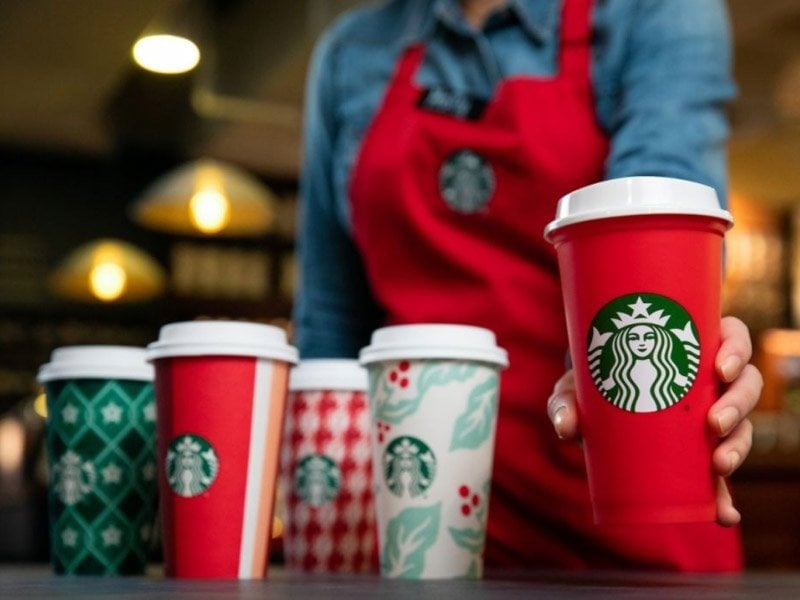 Even better you will get to save money when going to Starbucks too!!
Customers who bring their 2019 reusable red cup to a participating Starbucks store in the U.S. or Canada after 2 p.m. starting Nov. 7 will get 50 cents off their handcrafted grande (16-ounce) holiday beverage through Jan. 6.
Qualifying holiday beverages include any size hot, iced or blended of the following: Caramel Brulée Latte, Chestnut Praline Latte, Eggnog Latte, Gingerbread Latte (available in Canada only), Hot Chocolate, Peppermint Hot Chocolate, Peppermint Mocha, Pumpkin Spice Latte, Salted Caramel Hot Chocolate, Salted Caramel Mocha and Toasted White Chocolate Mocha (available in the United States only).
Sticking to keto or low carb? Check out the Keto and Low Carb Drinks at Starbucks!