Thank you to Suave® for sponsoring today's post and providing products evaluated within. All opinions are my own.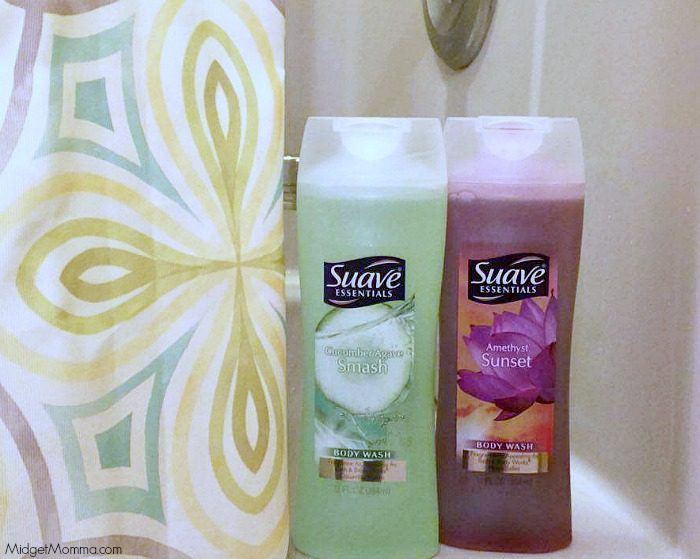 Fifteen minutes a day is all I ask for of peace and quiet. Out of 1,440 minutes in a day, that is what I need for me to keep myself sane. Trust me, with 6 of us in the house, working from home and never fully getting "alone time," it is needed.  It keeps me sane, well that and my coffee ;).
So I have come to make my shower time my "me time." My 15 minutes where I am left alone. Fifteen minutes where I can clear my head and relax just a little bit. If you are wondering how with 4 kids and a husband in the house I can shower alone, the answer is I lock the door. Part might also be that I have convinced them all that conditioner MUST sit in my hair for at least 10 minutes or my hair could fall out ;). If there was to be an emergency, I am sure one of the kids or Tom could pick the lock, but let's keep the conditioner tale a secret between us :).
When it comes to those precious 15 minutes, I want it to be relaxing, which means I am quite picky on the body wash that I use. I want something that will get the job done, but it also MUST smell amazing. I enjoy the steamy warm bathroom, the hot water and the air being filled with something that smells amazing.
Plus with 3 kids in the house who also shower and have the tendency to leave the open bottle on the tub floor and have it spill out, I need something that is also budget friendly.
So what is a mom like me to do? Find a body wash that has amazing scents for when I take my shower and is budget friendly incase the kids waste it all! I found it! Suave® has the perfect line up for me! With scents including Amethyst Sunset, Cucumber Agave Smash and more, I get a relaxing shower and the bathroom fills with an awesome aroma. Plus, it is budget friendly for when the kids spill it and waste it. You just have to keep an eye out for a great coupon and stock up like I do.
You are going to want to make sure you grab your Sunday Papers on November 6th! There is going to be a fantastic Buy One Get one of equal or lesser value FREE coupon in the paper! The coupon will be valid in stores nationwide on ALL Suave Essential body washes in both the 12 ounce and the 18 ounce until Sunday, November 20! I know I am grabbing a bunch of extra papers that week so we have a nice stockpile of Suave body wash in the house!
And if you are worried about Mom brain kicking in and forgetting to get your papers that day, I will remind you all on the MidgetMomma Facebook page to go get your papers so you do not miss this awesome coupon! #SuavePartner