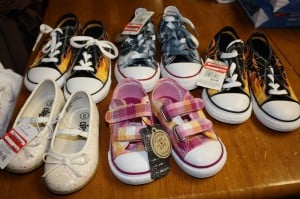 I had a GREAT Shopping Trip at Target! I found Converse Sneakers on clearance!
1 Pair White party shoes @ $3.24
2 Pairs converse @ $5.74
2 Pairs converse @ $6.24
total- $27.20
Total saved- $85.75
We have a shoe bin where we keep all the shoes that the kids have not grown into yet. It makes it so much easier to go to the bin when they need a new pair of shoes and since I am able to get shoes at such great prices my kids end up with a few more pairs of shoes then they would if I had to pay retail for them!
Check out your local Target to see what clearance prices that they have. If you find any great clearance deals please share them here 🙂