Just 10 more days of school and then it is summer mode in our house Wahoo!  The kids and I have been counting down the last few weeks and none of us can wait! Summer time means FUN time in our house! It is when my kids and I spend a lot of time outside doing many different activities and going to different places. We live in an area where it is only a short distance to many different outside activities so we can go to the beach one day and then take a nature walk through the woods the next and I love it!
We are just a short drive from Long Beach Island, my all time favorite place to be and during the summer I could be there everyday and be one happy Momma!  There is so much for us to do there, we can go to the bay to swim and play in the sand and then have a picnic lunch and relax a bit. One of mine and my kids favorite thing to do is go crabbing!  The kids love throwing in the cages and pulling them in and this year it is my youngest first time that she is actually old enough to understand what we are doing! I am so excited to take her crabbing for her first time this summer! Going crabbing also means that we have fresh crab meat for dinner that night and make my family's favorite meal, fresh crab cakes! Now that we don't have to bring the stroller everywhere we go  we will also be taking a walk up the Barnegat Lighthouse, its a long walk but well worth it! It is such a great day when we head to the beach!
The Pocono Mountains is my next favorite place to go and have out door fun. My parents live there which makes it really easy to go and visit and spend a few days with them and enjoying the scenery and fun that we can have!   My parents house is surrounded by woods and we can go on hikes and nature walks. Of course there was also last years rainstorm when we all went outside and played in the mud, which my kids have been asking if they can  do it again this summer, my answer "Of course!" It is a TON of fun to run around in the mud and rain (just don't let them walk on your carpet all muddy that is not a fun mess to clean up) :)We already have a a few days in the Poconos Planned so that we can all go bike riding and the kids are trying to talk me into having a camp out in the backyard (and many of you know about Mr. Black Bear walking around my parents house last summer, so we will see if he comes around this year and if not camp out here we come!) I say bring on summer! Time for us to hit the beach, take walks in the wood and enjoy all the fun that summer brings!
Last year we were able to have "pet" tadpoles, a TON of them hatched in a hole my parents had in their backyard so the kids and I filled up a pond insert with water and watched them grow. It was a ton of fun for the kids and everyday they asked to go and see how much the tadpoles had grown! I am hoping this year we find something else similar where we live now that the kids can watch grow and learn at the same time.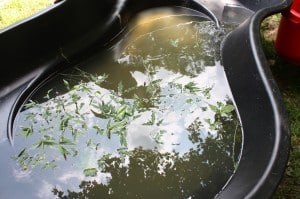 We already started our little garden box garden and are waiting on our greenbeans to grow some more so that we have fresh green beans but we also head to the local U-Pick farms and go veggie picking! We pick the veggies and then come home and have a yummy, healthy snack! The kids favorite thing to pick is blueberries which it is just now time to start picking them and that means we also make my yummy blueberry pie!
Summertime is also great for having lazy days where we just stay home and run around the backyard playing games like tag and having water balloon fights! I love waiting until it is almost dark and then we turn the spot light on and have a blast just running around outside!
Summer is my favorite time of year, no school for the kiddos and TONS of time and opportunity to have good quality family fun and enjoying the nice weather and just having fun! If you can't tell I am super excited and I am really hoping that the next 10 days fly by so we can get started on our summertime fun!
What are your favorite activities to do with your kids during the summer?
If we've learned anything from more than a century of building bikes, it's that some things never get old. From that first taste of freedom, when the training wheels come off, to the wonder of a parent letting go, and all of the ups and downs in between, magical moments in life happen on a Schwinn.  Life's a ride. Enjoy it on a Schwinn.
Disclaimer:
"Disclosure: Compensation was provided by Schwinn via Glam Media.The opinions expressed herein are those of the author and are not indicative of the opinions or positions of Schwinn"
This post may contain affiliate links. Please read my disclosure policy here