Stadium Snack Tray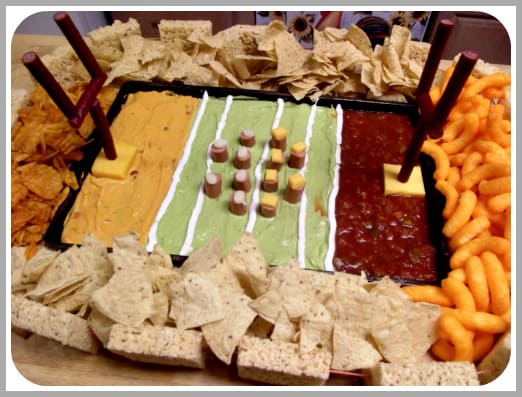 (Photo Credit Sunshine and Sippy Cups)
Doesn't this look Yummy!! It is perfect for the Superbowl or any game day football party! Filled with yummy goodness and it looks super awesome too!! You could also add things like brownies if rice krispies are not your thing. There are many ways to change it up and customize it to your taste! My homemade Guacamole recipe would be awesome in this dish!!
Stadium Snack Tray Ingredients: 
Guacamole
Salsa
Cheese Dip
Tortilla chips
rice krispie treats
pepperoni sticks
Cheese
Cheese doodles
chips
Stadium Snack Tray Directions
Separate a tray into 3 sections (1 for each type of dip)
put one of each dip in each section
Form a goal post with the pepperoni sticks using tooth picks to hold it together, and put a piece of cheese on the bottom of it
Put the rice krispie treats around the edge of the tray
on each of the sides put your chips
Join the newsletter
Subscribe to get our latest content by email.