Recently I checked out Swap.com, I did some shopping, feel in love and then partnered with them to tell you all about it!
I love thrift and consignment stores – there are always awesome deals to be had at them, however locally I don't have any. Well there are a few but every time I have gone in to them they have almost nothing that is worth the trip. I have given up on going to local consignment stores and have been on the hunt for online ones, so I was very happy when I found swap.com
I have a shoe problem, I LOVE shoes for my kids (and myself) so that we can have cute shoes to match our outfits. That goes for Hannah also since she has been born, but really who wants to spend a fortune on baby shoes that they will out grow so fast.

At Swap.com I found super cute pink Nike crib shoes for just $9! They arrived and you couldn't even tell they were used! The same for the Pediped shoes I got her for Christmas, and the Adidas crib sneakers in the next size up!
I also found a PennState outfit, which when i saw it was a must have to get since we are BIG PennState fans and I have a hairbow already that is PennState and needed an outfit to go with it!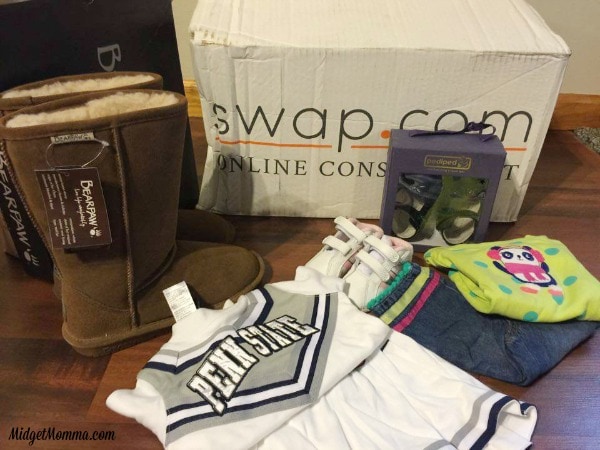 McKenzie was happy because I found her BearPaw boots. She has been wanting Uggs but I am not about to spend that type of money on kids shoes, the BearPaw ones were brand new and totally budget friendly! So needed with a tween who seems to change her style every day LOL
Seriously I was so excited at the prices when shopping and the perfect condition everything was in when it arrived. Name brands for the kids can get costly, and I am always looking for ways to save on them.
Navigating Swap.com was super easy, I was able to search what I was looking for, browse by sizes and find what I was looking for.
Swap.com has a TON of other items- baby gear, men's and ladies' clothing, household items and sooo much more!
On top of the awesome prices, you will get FREE Shipping on your first order of $10 or more! And when you spread the word about Swap.com to your friends you will get a $20 Swap.com credit when they make a purchase!
Disclaimer: This post is sponsored by Swap.com All opinions are 100% my own.