This is a sponsored post written by me on behalf of Sprout Organic Foods. All opinions are 100% mine.
This whole having a baby thing is overwhelming even with it being baby number 4. There is so much that has changed over the last few years, it has been 6 years since Alyssa was born, that sometimes I feel out of the loop and overwhelmed.
With McKenzie and Logan (11 and 9 years ago) I remember my choices of baby food being limited to 2-3 different brands. With Alyssa I had a few more choices to pick from. Now with this little one on the way there are even more choices. I know I could make my own baby food and know exactly what is in it, but I have to be honest with myself, I do not have the time for that. I have learned over the years my limitations and time is valuable and if I can find something that fits what I want and need but will save myself time I take it and use it.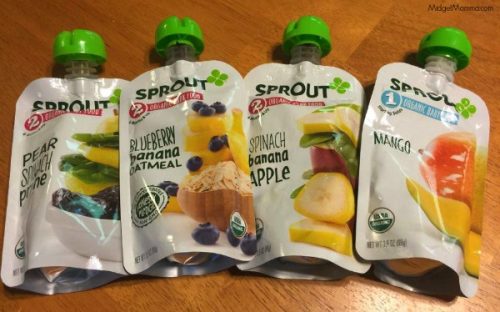 That is why I am happy to have found the new Sprout baby food pouches. Not only do they come with a variety of flavors that I will be able to feed our little girl, but they also have the ingredients I would choose. Sprout only uses ingredients like those that would be found in your own kitchen – no preservatives and nothing artificial!
They have whole fruits, vegetables & grains along with no preservatives. Basically they have the same things as I would be putting into baby food if I was making it at home, but I don't have to stress myself to the max on time and I can still know what I am feeding our little girl. Sprout honestly labels their products so Flavor names match the primary order of ingredients inside. This way Moms knows EXACTLY what they are feeding their babies. That is so needed!
Plus they have some really awesome favors including Mango, Spinach Banana Apple, Blueberry Banana Oatmeal, and Pear Spinach Prune. I am one of those moms who tastes the food before I give it to my kids, and if it tastes gross I am not feeding it to them. With the Sprout Baby food they taste good, yes I tried them 😉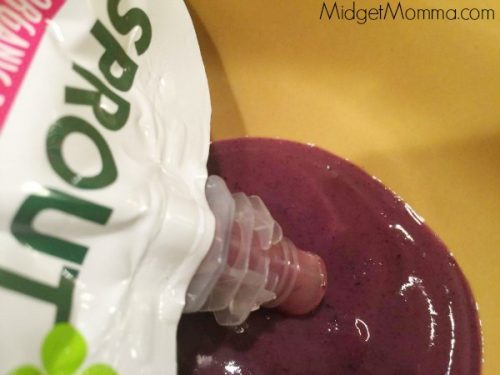 I have also been lucky with my other three kids that they are not picky eaters, I really think a lot of their love for fresh fruits and veggies comes from giving them to them early in life. Sprout lines up with my feelings and thought process on that as well. Research shows that developing a love of healthy foods early on helps foster healthy eating habits for life. That's why Sprout is committed to providing the best nutrition and uses only certified-organic, non-GMO ingredients like whole fruits, vegetables and grains.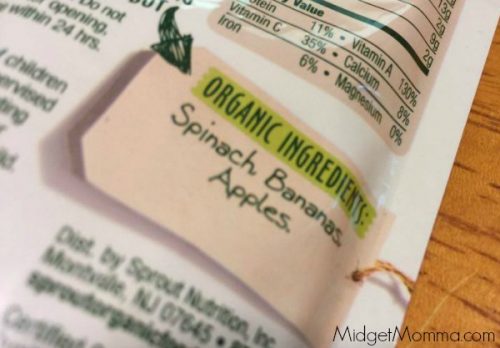 Of course nothing is more important then testing out how a baby or toddler would like it so I put them to the test with my 2 year old nephew. My sister told me he had just fought her on eating dinner and was not hungry so she wasn't sure he was going to eat it well… I will let the photos speak for themselves 🙂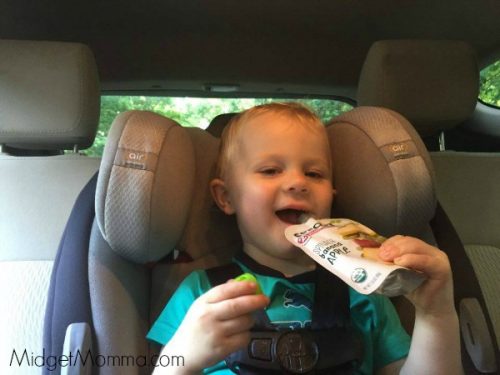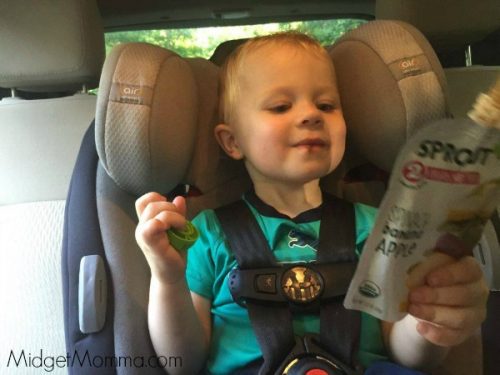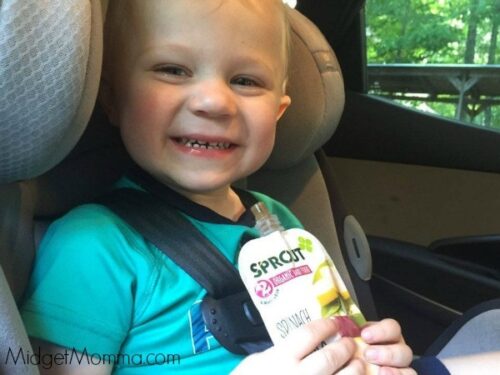 He finished it and then asked me for more 🙂 I take that as a win and that baby girl will love them too!
Unlike leading competitors that primarily focus on two flavors (apple or pear); Sprout offers delicious blends of whole fruits, vegetables, and grains giving babies greater exposure to wholesome foods. 
The Sprout Baby Food 
Mission & Values 
 of 
"Keep it Honest, Make it Real"
 align with mine as a mom, and I can know what I am feeding my baby! 
Make sure you print the Buy one get one FREE  Sprout Coupon   and check out Where to Buy to find where they are near you!