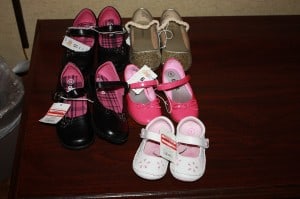 I hit up the Target just for something to do and was happy to find TONS of shoes, girls boys and women's on clearance from 50%-75%
I love having lots of shoes for my kids, I also love it when I am able to get them for a really good price, not only does it save me a ton of money, but I am able to have more pairs of shoes for the kids and then if they ruin them when playing outside I don't stress out to much about it.
I was able to get 5 pairs of shoes for $16.92, the original price is 57.95!  That is a savings of 41.03!
They also had a TON of summer stuff on clearance, I found summer dishes, clothes, toys(which soon the toy clearance will be starting 🙂 ) and a lot of other things around the store!
Have you found any clearance deals at Target lately?
This post may contain affiliate links. Please read my disclosure policy here