Eggs are a staple in our house, they are a quick and easy breakfast that I can make in the mornings that will fill the kids up and is healthy for them. Plus there are many times that we do eggs for dinner, not just because they are easy to make but there are so many things we can add into them to make them even more tasty!
I used to do omelets but the whole flipping the egg thing ended up always being a mess, so now I stick to doing scrambled eggs and giving everyone the option of what add-ins they want with their eggs. Our favorite add-ins for scrambled eggs are onions, ham, peppers and cheese. We always have them on hand for quick meals!
There are soo many other awesome ways to eat your eggs, you should check out the Fluffy Eggs recipes here  for even more tasty ideas including a veggie frittata, breakfast pizza and more!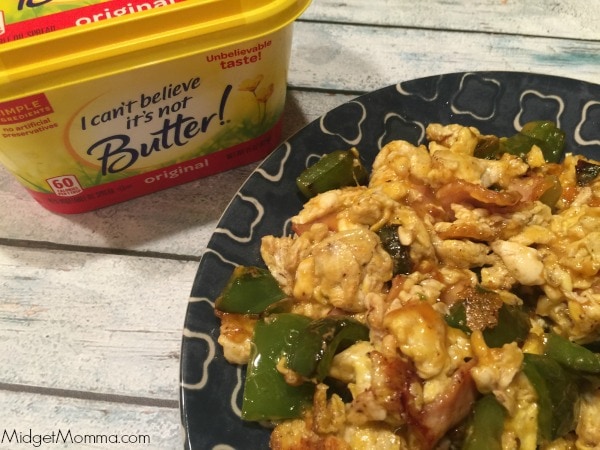 One that is super tasty and one that I love that we always make is what I call Egg and Veggies Scramble.
Ingredients:
2 Eggs
1/4 green pepper
2 pieces turkey lunch meat
1/4 cup shredded cheddar cheese
Directions:
In a small pan on medium heat melt I can't Believe It's not butter and sauté peppers and turkey. Remove from the pan and then scramble and cook your eggs. Once eggs are cooked add peppers, turkey and cheese to eggs and stir until cheese is melted.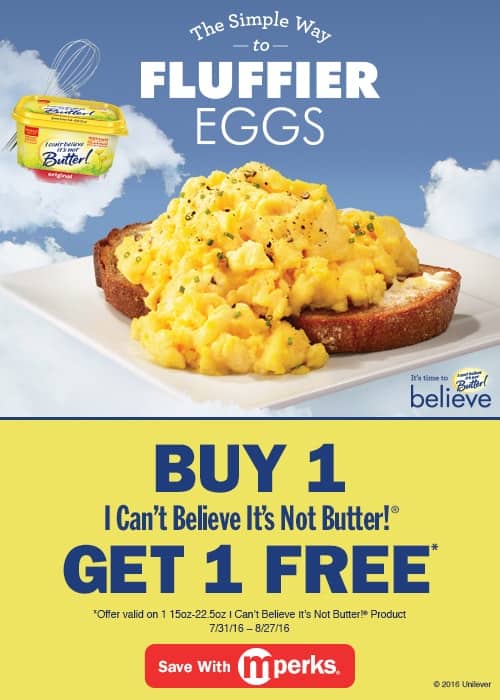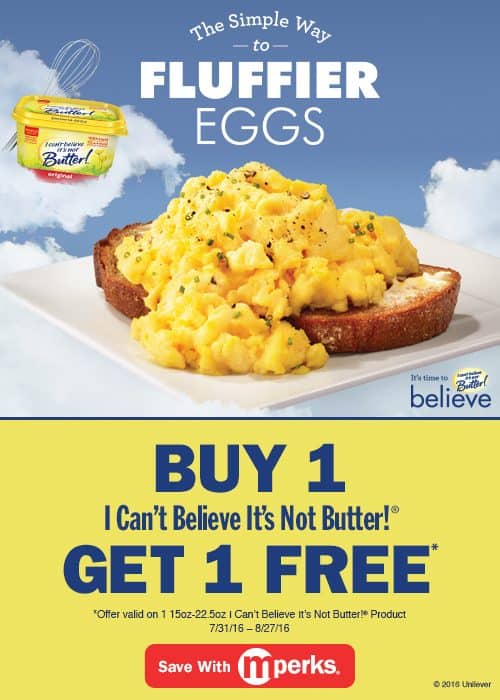 If you have a Meijer near you then you can also score a great deal to go with your egg recipes! Thru August 27th they have a Buy 1 I Can't Believe It's Not Butter Product, Get 1 I Can't Believe It's Not Butter 15oz-22.5oz Product Free sale going on! I Can't Believe It's Not Butter! makes eggs fluffy and delicious and you can't beat a great sale!
I Can't Believe It's Not Butter
Made with real, simple ingredients like a delicious blend of oils, purified water and a pinch of salt, I Can't Believe It's Not Butter!® has amazing fresh butter taste in a deliciously simple recipe. This irresistibly creamy spread contains no artificial flavors, no artificial preservatives and 0 grams trans fat.* Now that is something you can feel good about!
I Can't Believe It's Not Butter!® is great for cooking, spreading, topping and baking.
70% less saturated fat and 40% fewer calories than butter*
Non-GMO sourced ingredients**
No hydrogenated or partially hydrogenated oils
Gluten free
No cholesterol per serving
Good source of Omega-3 ALA***
Plus One MidgetMomma Reader is going to win a $25 Meijer Gift Card! All you have to do is head on over here and answer the question on this facebook post.
Ends on Thursday, September 8, 2016. See full Giveaway information here
Disclaimer: This post is sponsored by Mirum Shopper. All opinions are my own.