Disclaimer: This post is sponsored by Mom it Forward.All opinions are 100% my own.
As a couponer and stockpiler one of the things I have the most of is canned veggies, having them in my stockpile means a lot of diferent things for me. They make my life easier, especially during the winter months when fresh produce gets expensive, I can give my kids veggies from the can and still stick to my grocery budget. I am able to make many different recipes that my kids enjoy that use canned fruits and veggies. They also make it so I am prepared, we now live in the mountains and when it snows we won't be going anywhere so I know with the canned fruits and veggies my family will still get the nutrition they need with out me having to trudge through the snow to the store. One thing I also like about canned fruits and veggies is that there are so many different types, if you eat organic food there are companies that produce organic canned veggies, if you are looking for different cuts of veggies you can find them too. The variety in canned fruits and veggies works for everyone.
Here is a picture of some of my canned fruits and veggies stockpile (the rest is still in boxes packed from the move)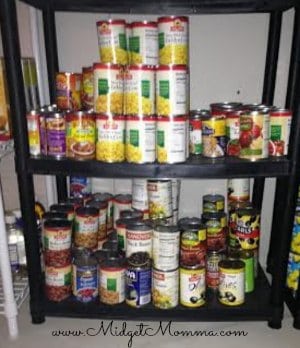 I have a lot of great recipes that I cook for my family that use canned fruits and veggies that taste great and are super easy to make, here are some of our favorites:
Crockpot stuffed cabbage rolls 
Awesome information about canned fruits and veggies:
The canning process locks in nutrients at the peak of ripeness—just hours after picking.
The process is the same as our grandparents and great grandparents used to preserve foods generations ago.
The can itself seals in all the natural goodness of the food.
Canned foods make homemade easy!
Cans help you save prep time and get a healthy, homemade meal on the table more often.
A well-stocked pantry – your "cantry" – helps you make hearty, flavorful, nutritious meals you can feel good about, anytime.
Canned foods help reduce the amount of food we waste, saving us time and money, and reducing our impact on the environment.
According to recent studies, most Americans throw away spoiled fruits and vegetables two times a week on average, wasting approximately 15 percent to 20 percent of fresh fruits and vegetables each year.
Canned food portion sizes are suited to both individuals and families and most recipes are designed around these sizes.
Metal cans are endlessly recyclable and in fact, are the most recycled containers in America today, keeping metal out of landfills and saving significant energy. Nearly 80%-90% of all steel that has ever been produced is still in use today!
You can find more information about Canned fruits and Veggies by following the different social media channels.
Disclaimer: This post is sponsored by Mom it Forward.All opinions are 100% my own.