Teen Beach Movie DVD Review
I was super excited when I first learned of this movie. I watched the previews. My kids watched the previews. Even Lauren watched the previews. And we all had the same reaction- WE WANT TO SEE THIS MOVIE!!! So when the premiere happened on Disney Channel we all watched. Even though Lauren and the kids were on a trip, I still watched it. And I was impressed. So when I got the chance to review the Teen Beach Movie DVD I jumped on it. I could now watch this awesome movie whenever I wanted. So if you haven't seen it your probably wondering what is all the excitement is about. Well you have come to the right place to find out!!!
Teen Beach Movie stars Brady (Ross Lynch) a surfer who lives in a fun loving beach town, and McKenzie "Mack" (Maia Mitchell) Brady's girlfriend who also lives with her grandfather in town. The two are having a great summer surfing and just having fun. When they return to Mack's grandfathers hut after one of their days of surfing, her grandfather is watching Brady's favorite movie- "Wet Side Story". This movie centers on bikers and surfers battling over a groovy hangout called Big Mama's. This is basically the movie within the movie. Soon after, Mack's aunt shows up and informs her it is time to get serious and live up to her end of the bargain she made with her aunt. When Mack's mother died, the bargain she made was when it was time to get serious about her schooling she would and she would go with her aunt to one of the best schools in the country. Brady had no clue this was happening and gets upset. The next day a storm is approaching the beach town. There will be some monster waves and Mack wants to surf them before she goes. She goes and begins to surf but things turn south. She wipes out, and Brady goes out and dives in after her. When the come to the surface and realize they are ok, they head for shore. This is where something weird happens. They both hear singing. When they peek over the rock, Brady realizes what is going on. They are in the movie West Side Story! Brady and Mack join the musical number and have fun. But Mack soon starts to worry as she has to get home and begin her new life. Will Mack and Brady escape this alternate universe? You will have to watch to find out!!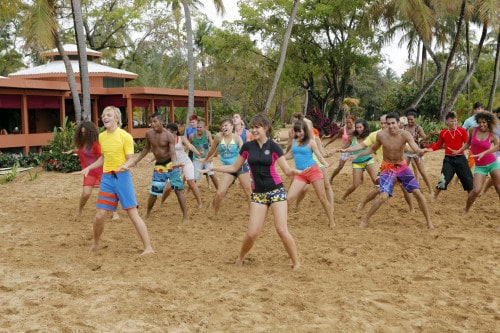 There is a ton of singing and dancing in Teen Beach Movie DVD that will make you want to sing and dance along. It is all well done, and very kid friendly. This is an awesome movie for those family movie night. I highly recommend this movie to everyone. So join Brady and Mack on a wild adventure. Surf's Up!!!
Check out this awesome video clip!!

You can purchase this movie on Amazon here – I am even tempted to buy a second copy so when the kids visit their grandparents and take it with them I can still watch it!!!
MidgetMomma.com Score- 10 out of 10
This post may contain affiliate links. Please read my disclosure policy here