I wanted to give you all an update, I know I have not had the chance to really tell you all much about being in Texas other then my review of the Toyota Highlander (which I hope you have all enjoyed the videos so far). The rest of the videos will be up this week!
I am going to share with  some of the ways I have been saving money while I was in Texas.
Eat like a local– Skip the fast fast food and chains (for the most part) the local places will be cheaper but not only that you will get to eat great food. Ask around for what places people like best, when you stop at a gas station ask them where in town they think has the best food. Mommy Mae and I checked out some great places.
Shop at the Grocery Store– Don't buy snacks and drinks at the convenient stores and gas stations, they are going to be a lot more expensive even if the grocery store is considered an expensive grocery store it will be a lot cheaper then buying at a gas station or convenient store.
Buy souvenirs are places like CVS, Walgreens, and Rite Aid- I have noticed many of the same Texas souvenirs in stores and in CVS. You can use the Extrabucks (or RR and Up rewards) to buy souvenirs.
Check out the grocery stores- You can search online for match ups for the local grocery stores so you know where has what you are needing on sale.
Keep your eye out for coupons– Especially if you are coming to Texas, seriously I see them everywhere I go! If they are coupons that I can use then I am picking them up!
Look for coupons for local places– Coupons for fastfood places that are local can be found in the free papers in the area.
Here is an example of one of Mommy Mae's and I's eating outs using coupons. We wanted something really quick and really cheap so we went to Jack In the Box, we each had a coupon. Mine was for a FREE drink and fry when I bought the new Bourbon BBQ Steak Grilled Sandwich and she had a coupon for get 2 FREE Tacos with ANY purchase.
Our total was 6.89 Not bad at all for 2 people to eat!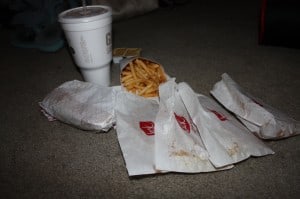 Join the newsletter
Subscribe to get our latest content by email.
This post may contain affiliate links. Please read my disclosure policy here