I am excited to share that due to the generosity of Kohl's who provided us a gift card and the Holiday Gift guide where the samples we received from companies to share gift ideas with you guys and the credit from Zulily we were able to give 3 families ( a total of 10 kids) awesome Christmases's. You all might not realize it but you played a BIG part in my being able to help others, so you are just as much a part of the helping others!!
I can not thank you all enough because with out you, my readers companies would not be sending products to be featured in the Holiday gift guide,   (which if you have not checked it out yet, do so! If not for your holiday shopping because I know most of you are done for the shopping you will do all through out the year! ) Kohl's would not have offered to send me a gift card (read my post about that here) and I would not have had the Zulily credit to go shopping with and these 10 kids would not be having a Christmas like they are and I can not express to you how thankful I am that you take the time to visit my blog. With out readers companies would not want to send me products and then I would not have been able to do this this year.
This is just a peek at what my living room looked like as we were boxing things up and getting ready to deliver everything. There was quite a bit more as well that was scattered around my house!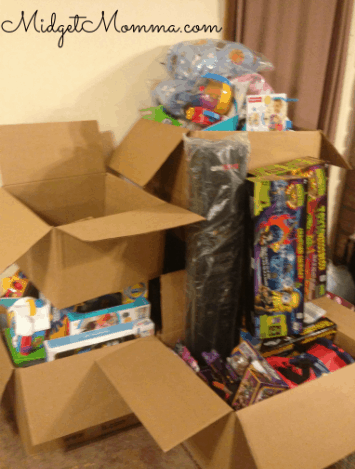 I hope you all have an awesome holiday, spending it with your families and while we all know gifts are nice, the point of the season is spending time with those we love.
And again I thank you from the bottom of my heart that you have helped me do this this year, I couldn't do what I do with out each and everyone of you who takes time to visit my blog and because of the time you take I was able to help 10 kids have smiles this holiday season!!