As a blogger I am self employed which makes tax season "fun", however I have learned over the years that year-round tax prep and planning are essential to getting my taxes done efficiently and right. Even if you are not self employed like I am The Advantages of Year-Round Tax Prep & Planning are BIG and will save you a TON of stress and craziness at tax time.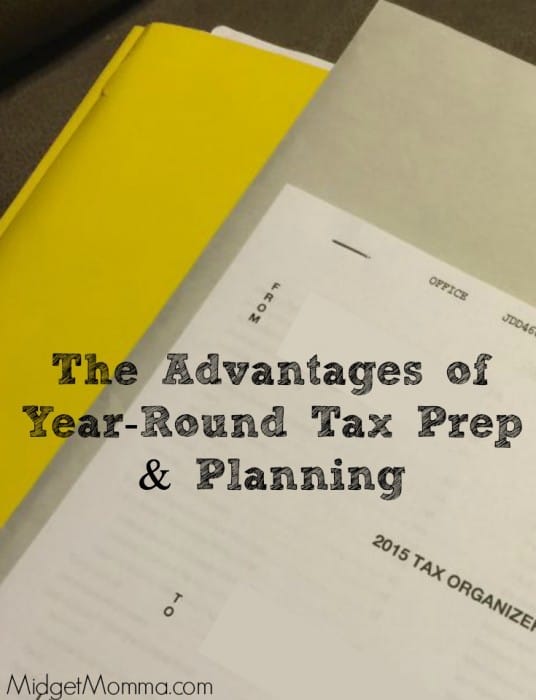 The Advantages of Year-Round Tax Prep & Planning
No digging for receipts – you will be prepped and have them all in one place so when you go to do your taxes you do not have to hunt for them all.
No Figuring out Payroll – If you have employees that are on a payroll system, Block Advisors can help provide your back-end needs and tax information that you need.
Less stress – Knowing what you need to get your taxes done will make life a lot less stressful.
Documents ready to go – Keeping an income report and an expense report and updating them monthly will make it easy to figure out your end of the year totals.
Less late nights – Having thing lined up and ready to go means you will have less late nights being up trying to get all your stuff together.
Less crying – I can't be the only one who sits in the middle of the living room surrounded by paperwork crying 😉
More time with my kids – I can get organized and be organized which in turn gives me more time to spend doing the mom thing that I love.
Knowing the tax bill in advanced – While you won't know 100% what your taxes are going to be that you have to pay or that you are going to get back, you will have some what of an idea and won't just be guessing numbers.
Knowing your income in advanced – If you are a business owner then you don't always know exactly what the business has made until the end of the year. And this is especially true if things are not organized. Being prepared and planning for your taxes means you will know where you are income wise.

Block Advisors is your year-round dedicated tax partner, offering both tax preparation and tax planning experience. Additionally, if you run a small business, Block Advisors can provide your back-end needs including payroll, bookkeeping and more to serve all of your tax and accounting needs. With more than 280 Block Advisors offices across the country, you can think of Block Advisors as your hometown tax advisor.
What to expect Using Block Advisor: 
Experience: Make an appointment to meet in a contemporary, private office with a trusted Tax Advisor; that's the beginning of what will be a long-term relationship.
Results: Devotion to clients – they stand by their work.
Support: Year-round, consider a Tax Advisor your personal partner. They are there to answer questions and plan for the future. And if the IRS ever asks questions, they are there for you. You'll never go it alone.
There are more than 280 Block Advisors offices across the country so finding some one that is local to you should make your tax prep needs easy. You can find a local Block Advisor here.
Disclaimer: This post is sponsored by H&R Block. All opinions are 100% my own.