One of the things that is a part of life is being prepared, no matter how hard dealing with the thoughts of what being prepared means. When it comes to our children they are our hearts, they are what working hard is for, they are our world and we all want to give our children the best we can.
To be honest I am going to try to write this post with out bawling my eyes out but I am not sure I can actually do that, so if while reading this post it makes you think and then it makes you want to cry too, I am sending you hugs. But I feel it is important that we talk about it and include it in our being prepared for things. I am also going to pray that no one here at MidgetMomma.com ever has to go through anything that this would come into use.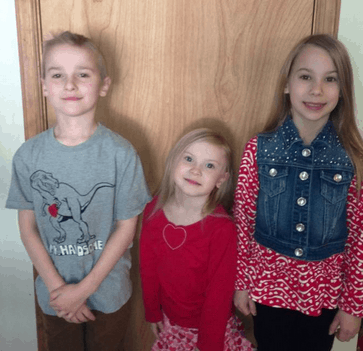 (my three little loves)
In the past few years I have had my grandmother pass away, my grandfather and my uncle and really learned about the cost of funerals, they are EXPENSIVE! Learning about the costs of them made me really start thinking, if the unspeakable were to happen to one of my children would I be able to give them the funeral that they deserve and be able to afford it. They are my babies, they are my world and if the unspeakable were to happen I would want it to be perfect. I don't have a savings account for something like that (and it seems morbid of me to have one sitting there with plans like that for the money) but if something were to happen the cost of a funeral is not in my budget. They are between $6,000 and $12,000!!
I started looking into options to see what the best route would be, because we are working on making sure we are 100% financially set and working on getting my life insurance (just in case) and Tom has his making sure we would be able to do whats best for our kids as well. I also found that I can set my kids up now to be good for life having a life insurance policy that when they become an adult will not have them in the situation that I am in right now looking at paying a high amount for it. So while I was looking into something for now, I found something that will benefit my kids when they become adults.
One of the companies that kept popping up in my search was the Grow-Up Plan from Gerber Life Insurance. Not only does it cover your kids when they are kids, but when they turn 18 the policy goes in their name and they keep it for life as long as the premiums are paid. That is something that will save them money when they are older too.
So while as a parent and thinking about the unthinkable at the same time you are setting your child up to have their adult bases covered. The cost per month that you start with is the amount that is paid for the life of the policy, which can be their whole life! You can get started for any child between the ages of 14 days and 14 years old and the policy will stay with them for life.
About the Grow-Up Plan from Gerber Life Insurance:
Provides lifelong protection for just pennies a day
Building cash value & getting double the coverage
Guaranteed coverage for life
Accumulates cash value as long as premiums are paid
Coverage doubles at 18 – with no extra cost
Coverage can be increased at our standard adult rate for your child's age at the time, as long as premiums are paid
Right now you can get a FREE Quote here and they will give you a FREE Child Safety kit (which is important to have) as well just for getting the free quote. Getting a quote does not make you obligated to sign up for anything and you can learn more about it and if it is right for your family.
I don't like talking about this stuff, but having my kids set up for life with their life insurance policy means I am prepared for the unthinkable and they are set up for when they are adults! We got our quote, I just haven't taken the next step because doing so is hard for me but I know that I do need to do what is best for my kids and my job as a parent is to protect them and help them be set up to be successful in life and be awesome adults. So for me I am focusing on that aspect of it, vs having to use it for the unthinkable and thinking about how just like I plan for my kids college this is a way that I can help them as a parent get started with being financially smart and set for life the right way.