We finally had the chance to have the kids Birthday party, Only 4 weeks and 3 reschedules later due to the snow 🙂  The kids had their friends come over and they all had a great time!
Birthday Express gave us the chance to review some of the products that they carry. When we do parties we always do solid colors with accents of the chracters that the kids want to stick in our budget. Since we had a combined party for all three kids and they each wanted different things we pulled a color out of each theme
Princess Pretty Pants wants Disney Princess, Little Man wanted Toy Story and we choose Winnie-The-Pooh for Angel Face. We used Blue, yellow and purple streamers to decorate along with a Toy Story Tablecloth on the kitchen table and a Disney Princess one on the counter where all the snacks were. We also used solid colored plates and cups in the same colors as the streamers.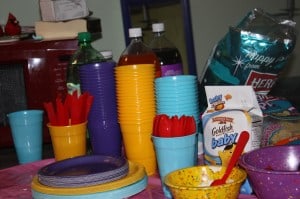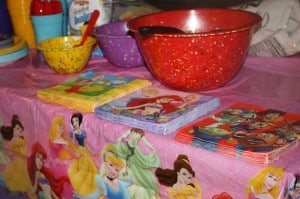 The cakes ended up being a bit different from what we originally planned because we were dodging snow, Bit the kids loved them so that is all that counts!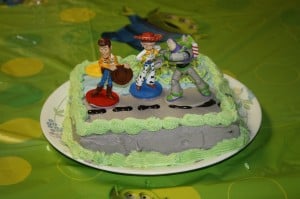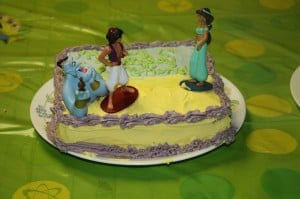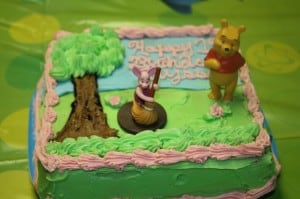 To Tie all of the kids wants into one theme we had it as an All Things Disney Party, which included a Mickey Mouse Pinata (thanks to Birthday Express for giving us the chance to review it!) Personally I like the pull string pinatas, its so much easier to have each kid grab a string and pull at the same time so no one misses out on having a turn! I wish I would have taken a picture of it before we had the party, because while it lasted through the party since it was pull string it did not last my son "seeing if there was more candy in it" aka ripping it apart.Instead of treat bags we used the candy and pinata prizes that I put in it and the kids had their treat bags to get all the goodies that fell out, the girls hhad Disney Princess and the boys got Toy Story bags.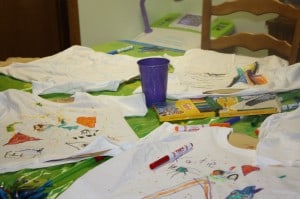 As our activity other then the pinata we decorated shirts! The kids loved it, what else is more fun then doing something you are normally not allowed to do Color on Shirts! We used white undershirts (found in the boy section at walmart) and Crayola makes markers just for coloring on fabric and then you just iron them so the color stays!
Of course since it had been a while since the kiddos had seen their friends from New Jersey who were able to makie it much of their time was spent playing together.
Since we held the party at lunch time, we planned to have both snacks and lunch food. We made Ziti and a salad for lunch and had Goldfish, chips and dip, juice and soda as our snacks and drinks. All which are easy to find at a good price when you use coupons and find sales:)
Disclaimer: I was not compensated for this post, all opinions are honest and my own. Birthday Express provided us with the paper products, treat bags, pinata, streamers and table cloths to facilitate our review. All other products mentioned have no affiliation with the companies mentioned.
This post may contain affiliate links. Please read my disclosure policy here