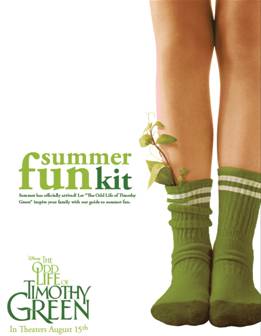 Summer is in full swing with some of us getting ready for school to start and figuring out activities to do with the kids to still keep things fun is probably high on most of your lists just like it is on mine. Here are some fun recipes and Activities that you can do with your kiddos 🙂
Just download the summer fun kit here and enjoy!
What is in the Summer Fun Kit:
"Hunny" Bee Cookies Recipes
Flower Power Cupcakes Recipes
Odd Life of Timothy Green Leaf project
Odd Life of Timothy Green Photo Album
Tiny Easel Craft
Glossy Paper Flowers
Personalized Plant Pokes
Freezing Water Tag
And More!!
Also don't forget to check the new video clip 🙂
The Odd Life of Timothy Green comes to theaters on August 15!
This post may contain affiliate links. Please read my disclosure policy here