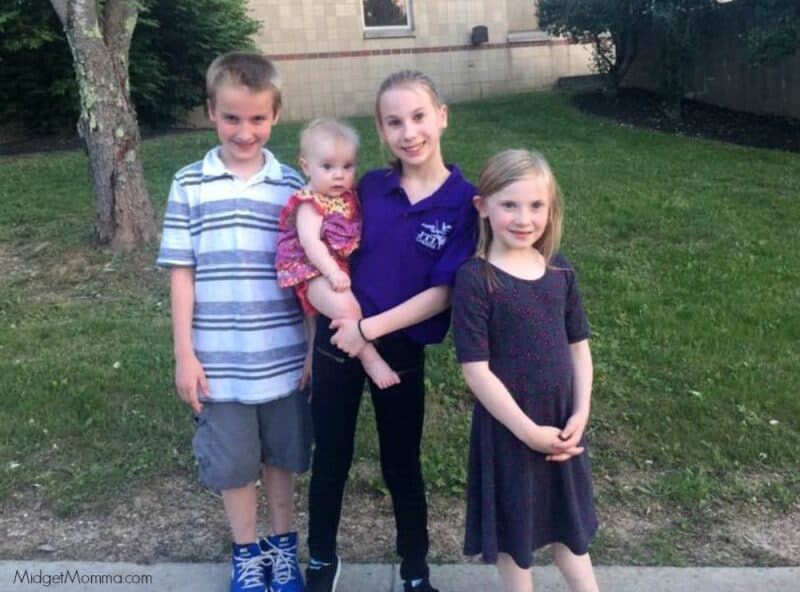 I am resharing this post, and since writing it we have added a 4th kiddo and the older 3 have grown but I felt it is important to share again 🙂
Parenting is tough stuff, and I am not talking about the middle of the night feedings when they are infants, or the 1,500 times a day you go into the kitchen to make everyone happy with snacks through out the day, or the fact that a 5 minute childfree shower is nearly impossible. I am talking about the choices that we have to make as parents and the ridicule that can come along with those choices from someone who "knows better". As parents it is our job to do our best with our kids and make the choices that we feel are right, however it is common, as I am sure you know, for people who are on the outside to stick their noses and comments in where ever they see fit.
I have faced ridicule by family because of my parenting choices, from the fact that I choose to keep my kids in 5 point harness car seats until they can no longer fit in them (I am quite proud of my "Car seat craziness" in case you were wondering) to the fact that I will let my kids stay up late on a non school night and just watch movies with me to where I let them eat birthday cake for breakfast the day after someone in our house has a birthday. I could go on and on about comments that have been said to me about what I am doing "wrong" as a mom but I will spare you the gory details.
When I was a first time mom with my oldest, I took to heart what the people I knew cared about me said, and there were many times that I gave in (like when I switched my daughter to forward facing at 14 months, when I really wish I had kept her rear facing longer), or the fact that I listened to people who said I would not be able to nurse her (she was a formula baby which now I wish I had not done. I wish I had put more effort in to trying.). I gained confidence in myself when my son was born, still being some what affected by comments that were made, I did give it a go with nursing him and in the end it was a no go, but I was ok  with that because I tried (well at that time I was ok with it, again I wish I had tried harder). I took less to heart with my son when people said anything how ever I was cautious in my replies when comments were made about what I was or wasn't doing. Then came our youngest, who ended up being a breastfed baby and she nursed until she was 18 months old (the slack I got from extended breastfeeding would shock you), I no longer cared what others had to say to me and I voiced my opinions on their comments (quite loudly I might add) and took what they had to say with a grain of salt. I was now in complete control and had the confidence to do and say what I felt was right for my kids, and just did not care if what I was doing was "wrong" in the eyes of someone else.
My kids are now 7, 5 and 2 and the comments from "the family peanut gallery" continue to fly just as strong as they used to, and more so lately from those who do not even have children (won't they be in for a shocker when the time comes for them to be Mommy and Daddy). I am sure I will hear forever that I am "doing it wrong" by letting my kids have messy rooms at times and then being the one to clean the rooms up, or how I am spoiling my children (which I admit I do, and you can check out my Mom Confession: My Children are Spoiled post) or how letting my 2.5 year old help me cook dinner is a no no because "Kids don't belong in the Kitchen".
As a mom I have learned that I am going to do what I want to do, when it comes to my children and that the other Mom's in my life do the same with theirs and that is 100% ok! If you are willing to fight your kids to eat their veggies, or if that is a battle that you are not wanting to fight it is ok (thankfully I have kids who will eat anything put in front of them, but i feel for those who have to fight a battle like that). It took me a while to be able to stand up for myself and being a mom and fight back against those who said "You are doing it wrong", but ever since then I have not looked back and it has made me not only a better mom, but less stressed because I no longer worry about what so and so will say at a family function, because their opinion on my kids eating 3 S'Mores before bedtime doesn't matter to me anymore 🙂
There is no manual for being a parent, we write the manual for our own children as we go!
Have you faced people telling you the "right" way to parent? How did you handle it?