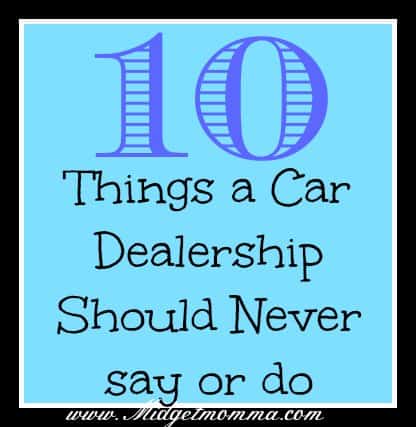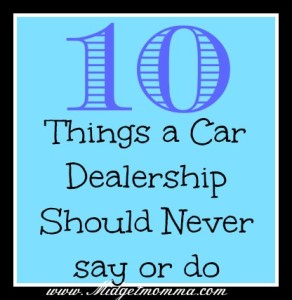 We all have to buy a car at some point. And unless we have some kind of special connection, we usually have to buy that car from a dealership. Whether you are a first-time car buyer or a seasoned car buyer, it can be a harrowing experience. Until you learn the in's and out's of negotiating, it can be downright scary. Now I'm not going to sit here and tell you how to negotiate. We all have our own style. What I am going to tell you are some things that while you are at a car dealership the sales staff should never do or say. Please note that not all car dealerships are like I am describing. Some are very nice and will listen to you and care about what you have to say. This is for that car dealership we all can't stand, and in turn avoid. So without farther delay, here are:
10 Things a Car Dealership Should Never Do or Say
Number 10- Don't put a price for a car online, then when we get there the price is higher. You call them online specials for a reason. Please don't change the price when we get there. We expect the price we see online. Wouldn't you?
Number 9- Don't say there is nothing you can do about a car that has a serious problem with it and you refuse to fix it. If we want to buy a used car and the sticker says As-is I would think that means maybe some scratches and the like. But when there is a serious mechanical issue with the car, it needs to be fixed. Would you buy a car like that?
Number 8- If we need to leave, don't come at us aggressively. It doesn't matter why we have to leave but we have to. If we like what we saw, we will be back. Do you feel like we won't? If that's the case, do you think coming at us with an aggressive attitude will change our minds?
Number 7- Don't tell us all you care about is hitting your quota for the month. When we walk in there, we already know you have a quota. You are a salesperson. It is like a quiet understanding. Should we tell you what our deadlines are at our jobs?
Number 6- If we give you our number so you can contact us, don't send us a text. We usually only text our family and our friends. You are not our friend. We don't want to text you and ask you what's up. We don't want to ask you what your doing later and if your up for hanging out. A text seems to personal to me. Am I wrong?
Number 5- Don't keep calling us if we tell you no the first time. Also, don't keep emailing us. Should we call you once an hour to tell you no again? How about we send you 50 emails a day with the word no. I don't think you would like that. Would you?
Number 4- Don't try and pin spouses against each other. Chances are we are on the same page when we go in there. Asking our spouses the same thing you just asked us 2 seconds ago probably won't net you a different answer. You don't really think it will, do you?
Number 3- While we are on a test drive, don't tell us to go to NYC or the like. If we wanted to go there, we would. Without you.
Number 2- Don't ask us if we can skip work to continue to look at cars or to get a deal done. We can't. Can you?
And the Number 1 thing you don't say or do is- While two spouses are in the car during a test drive, don't ask one of the spouses to check out the cute girl/guy in the car beside you. Really? Are you serious?!?!?
Have fun when you are going to buy your next car. Just look out for some of these things. Do you have any others you could add to the list?