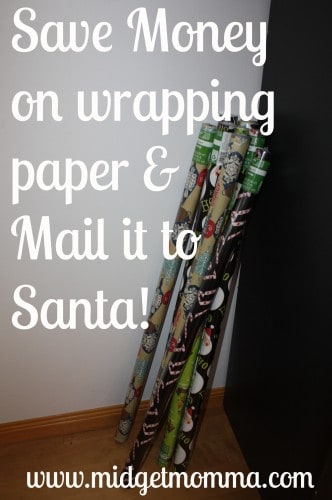 It is that time of year again…. the time of the after Christmas clearance! Many times I have to bring my kids along with me when checking out the clearance sales and that can make it a bit tricky when buying things like wrapping paper to use the next year since Santa is the one who wraps the gifts.
A few years ago my oldest asked me "why is the wrapping paper the same as the stuff we bought as the stuff Santa uses?" and I replied "I buy it when it is on sale and then I mail it to Santa, this way Santa saves money on the wrapping paper and when wrapping our gifts he knows who's they are because of the wrapping paper I sent him".
So each year I head out to the after Christmas clearance sales and buy wrapping paper and then a few weeks before Christmas I mail it off to Santa so he has it to wrap our gifts 🙂 There are times that I let them pick out the wrapping paper and then the next year they know what gifts under the tree are theirs because they picked it out!