Tips For Dealing With "Morning" Sickness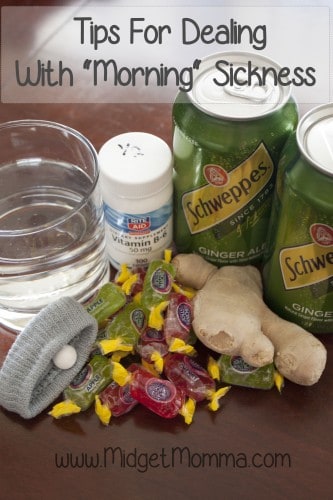 I wish I was one of those women who were lucky enough to no to get morning sickness. I had it so bad with my first pregnancy and this one as well. I lost so much weight with my first baby the nurses would joke around with me say stop at McDonalds and order the whole menu to fat myself up. With my first pregnancy I was able to go on a medicine to help with the nausea but this time around there are some new warnings for that same medicine I took before. So I decided to stay clear of that this time and try some home remedies. Here are some of my top tips for dealing with that "morning" (haha I wish it only lasted in the morning) sickness.
Tips for "Morning" Sickness
Vitamin B12- This was my saving grace! My doctor told me I could take 25 mcg twice a day.
Unisom- This is great in addition to the vitamin B12. Some people will get to sleepy for taking it during the day so you can save this for nights. You can take 1/2 a Unisom twice a day.
Small Frequent Meals – Do not let yourself get hungry! I know its hard to make yourself eat but it will help when your stomach is empty that's when you will feel your worst.
Ginger- My fridge is stocked with ginger aid! It seems to help me a lot when its ice cold. There is so many ways you can work ginger into your diet. You can try ginger tea, ginger cookies or ginger hard candies.
Water- You need to make sure that you stay hydrated. I found that sparkling water help settle my stomach and keep me hydrated at the same time. I kept water by my bed side and drank some before I even got out of bed.
Acupressure Wrist Bands – I was able to find sea band at my locate store. Yes they can be a little annoying to wear but for the three weeks I could barely do anything but breath they seem to help take the edge off.
Peppermint Candies – I know these seem to help a lot of people but the smell of peppermint made things much worst for me.
Avoid Trigger Smells – Yes this might be a hard one to do but try your best.
Jolly Ranchers – These candies strong flavor really helped put a punch to nausea.
Simple Carbs – Stick to the white carbs like white rice, pasta, white bread. Its easier for your stomach to digest.