Tips for Decorating for Christmas on a Budget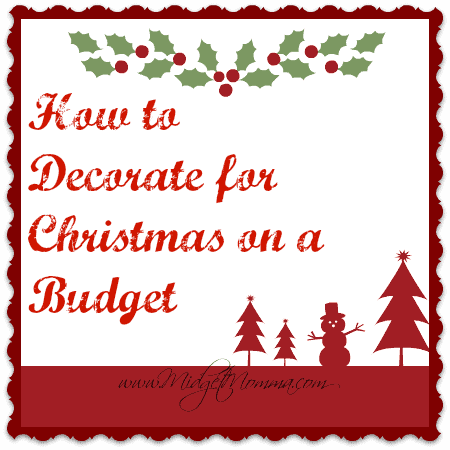 When it comes to the holidays most of our hard earned dollars go towards presents. There is often little money left over for decorating. However, knowing how to decorate without breaking the bank can be possible. That is, if you plan it correctly and stick to your budget.
Here are some tips that will help to make your Christmas season a little brighter!
1. Make yourself a nice towel stand for your bathroom by taking one of those old dressers no one is using and remove the drawers. Measure the area where it will fit in the bathroom. Then, grab some white paint and gold glitter and paint the dresser. Once dry, place it in your bathroom to add a new look.
2. We all remember cutting out snowflakes when we were young. Get into the Christmas spirit by cutting out some fresh new snowflakes to paste on your bathroom mirror, household windows, and even on the fridge. This will help to put you in the holiday spirit.
3. Purchase a small tabletop tree and make some miniature decorations for it. You can hang some of your sparkly earrings as ornaments, and wrap little pieces of Styrofoam for the presents. Throw some water in a pot, and add a cinnamon stick and some cloves to it, or even an orange peel and let the aroma flow surround you.
4. Watch for Pre-Season Sales- Watch the flyers for pre-season sales on Christmas decorations. Some stores offer them before and after the Christmas rush. You may be able to find some great bargains on Christmas decorations this way.
5. Repurpose old Christmas cards into something new. If you happen to have some old Christmas cards that have nice images but are not from those closest to you, you can use this to make a holiday collage. Simple get some white poster board, cut off the front portion of the card and glue it to the poster board. Shellac it and then frame it. You have just made yourself a beautiful Christmas painting.
The above tips are just a couple of ways that you can decorate for Christmas without spending too much money. Now that I have your thoughts on Christmas mode, I am sure that you will think of other ways to decorate rather inexpensively.