Tips for Organizing your Coupons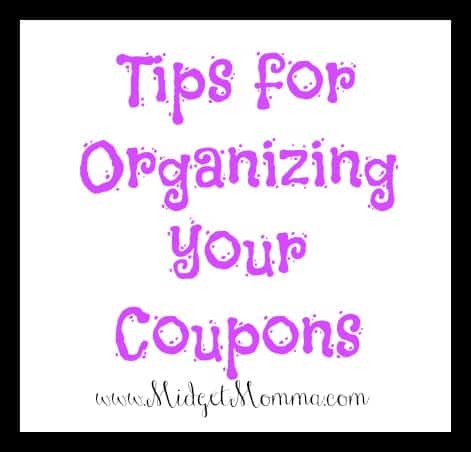 Clipping coupons is a great way to save some money, especially if you remember to use them before the expiry date. Many people are very organized when it comes to coupons and have a knack of even rotating the coupons as they know just when the item will be on sale.
Here are a few tips to help you get and stay organized.
1. Get a Cheap Binder– Get a Cheap Binder to store your coupons. You can add some plastic sheets in it to hold the coupons. This will help you to keep them organized. Put the smaller discounts at the top of the page and the larger amounts at the bottom.
2. Mark the Month– Get a marker and put the month the coupon expires at the top. This will help you to remember to use them before they expire.
3. Organize by Type- Organize the coupon by the type of product. You could have one for pets, one for health and beauty, another for clothes, and so forth.
4. Organize by Discount-You could also organize the coupons by the amount of discount they offer. Have a page that holds your buy one, get one free deals and keep an eye on when these items go on sale. By doing so, you will save even more money off of things that you normally purchase for your home.
No matter how you organize your coupons, it is vital that you do so, as this will ensure that you do not miss what savings you can get on products that you need for your home. It is important that you only clip the coupons that you need. Many people also stack coupons and manage to get some money back from their shopping purchases.