This is a Sponsored post written by me on behalf of Walmart. All opinions are 100% mine.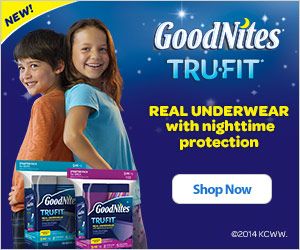 Bed wetting at any age is something that is uncomfortable for kids and can be very embarrassing, no matter how old my kids have been any time they have had an accident while they are sleeping they have gotten upset. When they enter school age and they still sometimes wet the bed it can be even more embarrassing especially if it happens while they are at a sleepover. Huggies has come out with new HUGGIES® GoodNites® *Tru-Fit* that look like regular underwear so if a big kid is at a sleepover they are protected, no one will know that they are not normal underwear and they will have comfortable nights when they are hanging out with their friends. Using them is easy, they are fabric like regular underwear but for protection you just stick and insert into the bottom. Once you buy the starter pack that comes with the underwear and inserts all you need to keep buying is the inserts.
Even with these new HUGGIES® GoodNites® *Tru-Fit there are still bound to be tears and embarrassment but there are things you can do to make sure your kiddo feels better when it happens.
Explain to them that it is normal and happens to many children and they are not alone
Do not make a big deal about it when it happens at 3am, just go in change the sheets and tell them you love them and put them back to bed
Use HUGGIES® GoodNites® *Tru-Fitso that when it does happen they don't have wet sheets
If they are going to a sleepover pack the huggies GoodNights® and explain that no one will know they are even wearing them
Cut back on liquids a few hours before bed
Have them use the bathroom right before they go to bed.
You can purchase them at Walmart. and make sure you head on over here and print the $3 off coupon, this will help save money on them. They come in multiple designs and for boys and girls and your kiddos will be able to pick out the style they want just like they would their regular underwear!!!