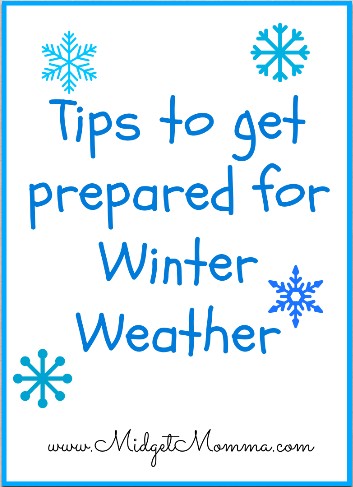 Winter Storms are no joke. Many people lose their lives during these storms because they think it will not be that bad or they think they can make it through without worry. In my experience, it is better to be prepared than to be left wondering if you have all you need during the storm. I have seen storms that are predicted to be just 3-6 inches turn into 12+ without warning. In fact, i remember just recently here in December during the Lions-Eagles this happening. They were calling for 1-3 inches and just as quickly it became a winter storm warning with 6-12 inches forecast. We got caught in it while driving back with our christmas tree. So it can happen. Here are some things you need to have so you can make it if you get snowed in or lose power. Better to know than to not.
Tips to get prepared for Winter Weather
If you are going outside-
1. If you are going to go outside, dress in several layers of clothes. Lightweight is best. Make sure you wear gloves to protect your hands and a hat to protect your head and ears. As you may or may not know, you lose the majority of heat from your head so covering that is most important!!
2. Wear boots that are insulated and waterproof. This will keep your feet warm and dry.
If you are traveling in a vehicle-
1. First and foremost if you don't have to go anywhere don't!! But if you do make sure you have an emergency kit handy in your vehicle.
2. Make sure you keep your gas tank full. This prevents the fuel line from freezing in extreme temperatures.
What you can do for your home-
1. You can install storm windows or put some plastic wrap over them to keep the extreme cold out.
2. Make sure all of your heating equipment is in good working order and that the filters are replaced.
3. If you have a generator, make sure the gas tank is full and it is in good working order.
4. Leave all faucets in your home turned slightly on so they drip. This will prevent your water pipes from freezing in extreme cold.
Supplies you need and should get-
1. Water. You should get a 3-day supply. One gallon per person per day.
2. Food. A 3 day supply of food that won't go bad and is easy to prepare.
3. A flashlight and plenty of batteries. You don't want to be fumbling around in the dark after the power goes out. (Which we have done).
4. A radio that is battery powered so that you can get all the latest alerts and warnings.
5. A first aid kit. I would get one per person in the household.
6. Make sure if you take medication that you have a 7-day supply at least. You never know when you may be able to get them and it's better to be safe in that regard.
7. A multi purpose tool also helps just in case something breaks such as a heater and the like.
8. Personal hygiene items are also very important to have a small supply of.
9. Keep your personal documents (or copies of) with you in an envelope that you can grab easily if something happens. This includes birth certificate, SSN cards, etc.
10. Make sure your cellphones are charged. Have extra batteries for your cellphones charged as well if possible.
11. Take out some extra cash just in case. If the power is out all over, CC readers won't work.
12. Make sure your pets have ample supplies as well. At least 3 days worth of food etc.
13. Sand, rock salt or kitty litter to spread on slippery surfaces. Kitty litter works wonders. You may be surprised.
14. Keep an extra blanket or two handy for each member of your household.
15. Keep emergency and family contact numbers handy. You never know when you will need these.
Many of you may have known about this. Some may not. I hope this helps. Remember you can never be to prepared.