So this way to save $100 or more a year is a bit odd, I know. However in my MANY years of trash picking it has saved me THOUSANDS. I LOVE trash picking and it is soo not what you think!
Trash picking… why it has such a dirty connotation I have no idea because as the saying goes "One Man's trash is another Man's treasure" is so true! There have been sooo many awesome finds that I have scored from trash picking that are not only beautiful items, useful items or very costly items but fully working and some just need a little bit of cleaning up done to them. I have been trash picking for years, my first find ever was the old school HUGE Little tikes climber 🙂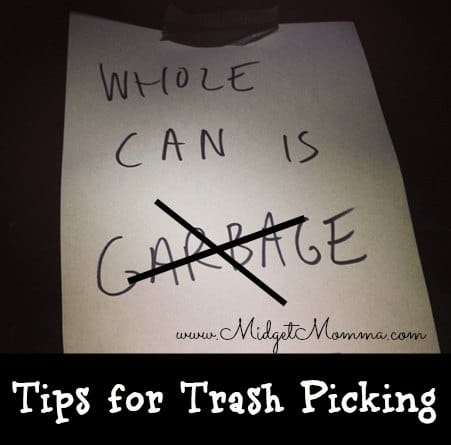 Some of the items I have found when Trash Picking are:
DS Games
PlayStation 2 (the one that is backwards compatible)
Coffee tables
American Girl items
Night stands (the one in McKenzie's room I redid to match her room i got off the curb)
Mirrors – like this mirror i refinished with chalk paint
Tips for Trash picking
1. Make sure it is legal in your town to trash pick. Every where I have lived it has been legal, but if it is not in your town look in towns around you. The last thing you want to do is get arrested for trash picking!
2. Find out when trash day is, for some areas this is harder then others. When I lived in New Jersey each neighborhood had its own trash day, here in Pennsylvania you pick your company and so the days and areas are all different.
3. Have a bag of all your trash picking needs including; hand sanitizer, baby wipes, flash light, trash bags
4. When you are trash picking if you open a trash bag be sure to use on of the ones in your trash picking kit to put the contents you do not want into a new trash bag. People don't mind trash pickers from what I have found as long as you keep things clean and clean up any mess you make.
5. Wear jeans and an older sweat shirt that you do not care about. Even if it is warm out you want your arms covered for if you are lifting anything or you are going through a pile.
6. Wear sturdy sneakers, if you find a table for example you want to be able to lift it with out worrying about unstable shoes
7. Go later at night, most people tend to put their trash out later in the evening. Going at 5pm you probably won't net much but if you wait until about 11pm most people will have their trash outside for the next day already.
8. Trash pick the night before trash pick up, going in the morning you might miss your chance and have the trash truck come before you get a chance to scout things out. Or they might get there as you are going through it and you have to stop because they have to take the trash
9. Be patient. You won't always score a big ticket item and sometimes you will come home empty handed but when you do find something you can use it is well worth it. Once you have been doing it for a while in your area you will learn which places are the best to go and what areas normally put out the best items they are getting rid of!
10. Don't bring home garbage. Just because it is on the curb doesn't mean it will actually work. When it comes to electronics if you find them bring them home and if they don't work you can take them to the junk yard and get money for the metal in them. But if you find a table you can fully see is broken leave it, you don't want to fill your life with garbage but instead you want trash picking jems.
Everyday for the month of October we are sharing a different way to save money. Each of these ways can help you save over $100 each per year! See the rest of the 31 Ways to Save $100 or More Per Year posts here. Using these ways to, you can save $100 in 31 different ways and you have a savings of $3100.00 in a year (if not more!)!