Tommee Tippee Infant Formula Machine
Disclaimer: I was provided this product free of charge to facilitate my review. No compensation was received and all opinions are 100% my own.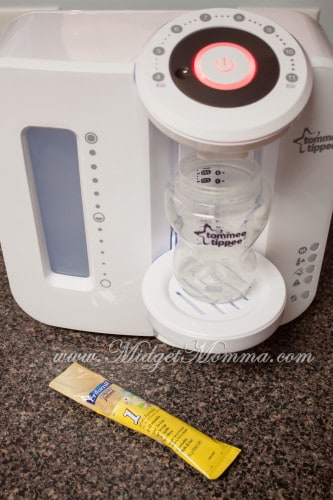 Being new mom is hard enough trying to hold your fragile newborn, I remember I thought that if I move my arm wrong she just crumbling my hands. Throw in trying to make a bottle while they are crying can make any new mom cry. The makers of Tommee Tippee came up with a solution to this called the perfect prep machine. This machine helps you make a bottle in under two minutes and the great thing is you only need one hand to use it.
I am breast-feeding and supplementing with formula so one of the greatest features about this is it heats the water right to body temperature. I used to struggle with trying to get the water to were she liked. Most of time I'd end up heating up the water and just letting it cool why I went and did something else. This was a pain in the butt and it did not work well when she wanted to eat right then. I would try to give her the cold bottle but she just had so much tummy trouble when I gave it to her that way.
There is a great feature called the hotshot. This dispenses a hot stream of water that will kill any bacteria that is in the formula. Being a first-time mom I am scared of any germ there could be so this really gives me some peace of mind. This hotshot also helps to solve the formula so you will not end up with clumps getting stuck in the nipple.
The perfect prep machine has an adjustable shelf so you can fit any bottle of your choice. This is a great feature so when I need to make her a large bottle or a small sippy cup this machine will accommodate each of them.
This machine also filters the water which I love! This means not having to dragging those jugs of baby water home from the store or having to buy a filter pitch. (like I did before I had this!)
When I opened up the box I was surprised to see how sleek and modern this machine looked and how it would look great on any one's counter. When you first go to use it you have to start off by cleaning it, this process takes about 10 minutes. I was able to let it run the cleaning cycle and go do other things.Once it's all clean it's ready to use. Using this machine is very simple, there is a large dial to change the size of bottle you would like to serve. Once you select the bottle size the place bottle underneath the machine and press the center button. First it runs the hotshot feature, then you add in your formula. Next you just twist on your cap and shake. Then you place the bottle back under the machine and hit the button again this will add the remainder of the water and your bottle is ready to serve. This is as easy as 1234.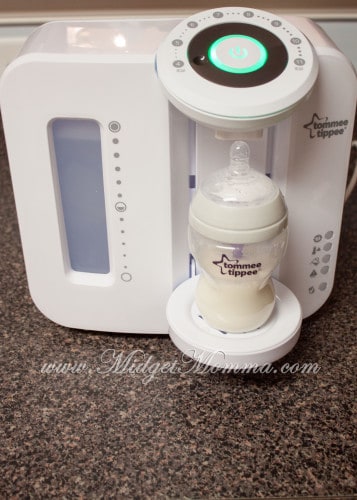 My husband now calls this her baby Keurig. This is a great way to think of this machine because some people might think this is just a luxury item but it saves you so much time. You have to think how many people thought that the Keurig was just a luxury item that they would never own but now so many households has them because of how convenient it makes one cup of coffee. I would recommend the Tommee Tippee Perfect Prep Machine to all new moms planning to sever their baby formula.
Disclaimer: I was provided this product free of charge to facilitate my review. No compensation was received and all opinions are 100% my own.