Cake decorating Supplies
If you are looking to make your cakes look like they came from a bakery than you are going to need tools for cake decorating. This is a look at a few of my must have items to decorate cakes. All of these items can be purchased at a craft store or local bakery supply store. They also are found all over the Internet.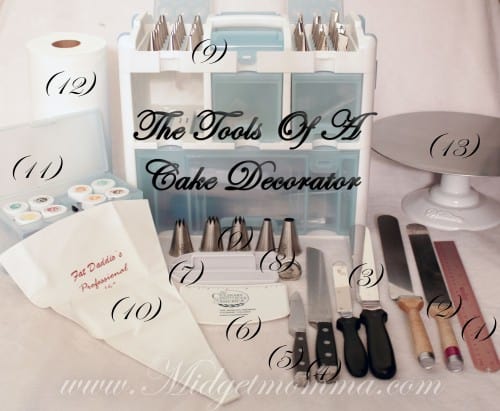 Don't forget to Pin It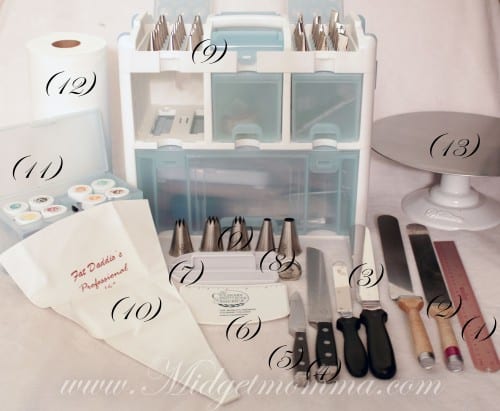 What you need to decorate a cake
1.) Ruler- It has many uses
2.) Straight Spatula – I like a extra long one for frosting. – found here
3.) Offset Spatulas- I have a short one and a long one for spreading the frosting – found here
4.) Serrated Knife – To slice and crave the cake – found here
5.) Pairing Knife – To cut small details – found here
6.) Bowl Scrape- I use this to help get the sides of the cake straight – found here
7.)Fondant Smoother – This is used after you have applied the fondant to the cake to make sure the sides are straight and there are no air bubbles. found here
8.) Rose Nail – To pipe buttercream flowers on found here
9.) Piping Tips – For add details with buttercream like boarders, names, flowers and swirls of frosting on a cupcake – found here
10.) Piping Bag – Used along with the piping tips the piping bag hold your buttercream frosting – found here
11.) Food Color – Used to change the color of food. I prefer to use gel food color because it is very concentrated so  it doesn't water down your product. – found here
12.) Viva Paper Towels – To be used with the Viva smoothing method. I love this method when working on a round cake so you end up with a very smooth surface.
13.) Cake Wheel – You place your cake on it so you can reach all sides easily. This is a standard Wilton wheel but if you don't want to spend the money on one you can use a lazy Susan what doesn't have a lip on it. found here