We have all had a piece of Candy at one time or another. Maybe we can't get a certain candy out of our minds. Maybe we need to have that candy in our home at all time. Well I have decided to do a Top 10 Candy List. This list is what I think are the Top 10 candies out there. Do you agree? Disagree? Let me know as I'm sure our opinions will differ. So without farther adieu, here is my Top 10 Candy List!!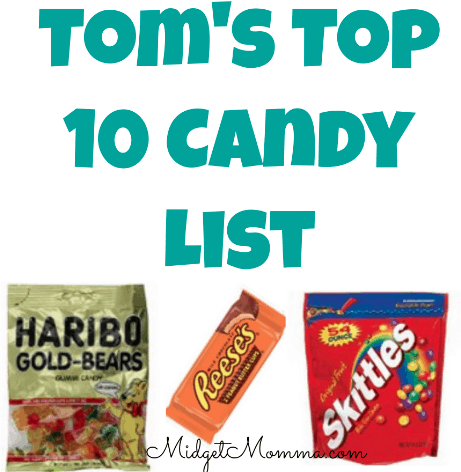 Number 10- The Jelly Bean– Shaped like a bean. Comes in many different flavors (some really crazy flavors as well). An Easter favorite.
Number 9- Skittles– Maybe lower on the list then some would think. To me they are good, but only every so often. Love the commercials.
Number 8- Hershey Kiss– Simple chocolate shaped like a rain drop. All you need when a simple chocolate craving comes up.
Number 7- M&M's– Simple milk chocolate coated in many different colors. Now you can get peanut, peanut butter etc. Variety matters and I love the variety here.
Number 6- ButterFinger– Love the crunch. Love the taste. Just don't lay a finger on it.
Number 5- Kit Kat– Milk chocolate covering crispy wafers. One taste and you will be hooked.
Number 4- Gummi bears– Simple bears in many different fruit flavors. Red is my favorite. Yellow is not. Save all the red for me and you'll be my friend for life.
Number 3- Snickers– Chocolate, caramel, nuts. I love Snickers. Im sure you do too. Who doesn't?
Number 2- Twix– It has always been a debate if the left or right Twix is the best. They are both awesome. Ill take chocolate, caramel, and cookie in one any day.
And the Number 1 Candy is…..
Reese's Peanut Butter Cup!!! I can not get enough of this one. Reese's peanut butter. Chocolate. A perfect marriage. Give it to me on Ice Cream. As a cookie. As pie. It doesn't matter. I love Reese's Peanut Butter cups!!!!
And there you have it. As i said above let me know your thoughts and what yours would be.
And if this got your taste buds going, head on over to our recipes section where you will find tons of awesomeness!! Just go>>>>>>>>>>>>here.