Toy organization is a big issue in our house, no matter how many different baskets, totes, bins, bookshelves we get I can never seem to have enough. We also end up with the issue of the kids bringing toys up from the playroom to their rooms and then having no where to put them but they want to have them in their room to play with and things get a bit hectic in their rooms. Alyssa was the one we had the most trouble with, stacking shelves didn't work for her because they were not stable enough, totes did not work because she likes to have things separated (in her own fashion) and the same issue with a toy box- there was no way for her to separate things. So we have been on the hunt for a toy organizer that would work for her, that was a style she would love.
We were sent the Disney Fairies Toy Organizer from Delta and it fits all of our needs. There are 3 bins on the top shelf, then 3 middles bins and then 1 big bin on the bottom. The organizer is the perfect height for her, she can reach in to put thing in it and take things out with ease. The big bin (even when filled with all her Bitty Baby stuff) is light enough that she can pull it out on her own.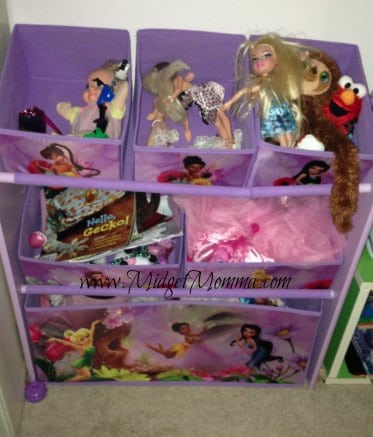 As you can see she has her random toys organized in her own way (she says her toys like to be with certain toys because they are friends) but they are the toys that she wants in her room. There is plenty of space for the things she keeps in her room instead of in the playroom.
Set up was easy, it came with easy to follow instructions and all the parts needed. All Tom needed was a screw driver!
All in all we love it, it has a design that Alyssa loves, with the ease we need for her to learn to put her toys away and it was super easy to put together.
Disclaimer: I received this product free of charge to facilitate my review. No compensation was received and all opinions are 100% my own.
Join the newsletter
Subscribe to get our latest content by email.