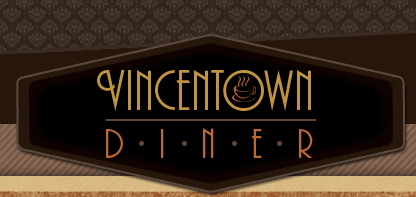 If you are ever in central New Jersey, Vincentown Diner is one diner that you will want to make a stop at. We have been to the diner on multiple occasions and have always been pleased. There are 3 things to note before going though, 1 that you will walk out full and 2 you will be bringing a "doggy bag" home with you and 3 you will want to go back to try something else on the menu because it tasted so good. I have yet to visit the Vincentown diner and walk always with both of these things.
Of course when I go I have all 3 kids in tow, and we all know that at times kids can be picky as to what they eat, there has yet to be anything that my kids have not liked. Their kids menu is great and filled with kid friendly meals from homemade chicken fingers to grilled cheese sandwiches, to my daughter's favorite the Mickey Mouse Pancake.
If you are looking for a burger, you have plenty of options, from the "normal" cheeseburger (which is HUGE) to the more exotic burgers and burgers made with all organic beef. One of my comfort food favorites to get is the chicken cordon blue, it is not your average chicken cordon blue, and the portion size is enough for 2 meals. It comes with a salad, bread (with their 3 different butters which all taste amazing) 2 veggies of your choice and the chicken cordon blue. I can't leave out the specialness in this meal, it comes in thick slices topped with a creamy swiss cheese sauce one word to describe it is delicious! Another favorite of mine is the Chicken BLT Club, again a large portion made with 3 pieces of bread, grilled chicken breast, lettuce, tomato and bacon.
I can not leave out their desserts either, with a full case of huge, delicious looking cakes and pies there is something for everyone. My favorite is the Chocolate Chip Cheesecake, while my kids being kids go for the chocolate cake. The slices are big enough that all I need is one slice for my kids to share.
A funny side story, My dad recently told me that my grandmother who passed away a few years ago had a restaurant that was her favorite close to me and when I was telling him about the Vincentown Diner and how my kids and I had deemed one of our favorite place to eat, he told me that it was also my grandmother's favorite restaurant and she used to take me here as a kid!
If you are in the Burlington county area in New Jersey make sure you check it out! And if you are a local make sure you sign up for their rewards program, it is free to sign up and for ever $100 you spend you will get a FREE $10 Gift certificate!
Disclaimer: I was not compensated for this post, I wrote about it because it is a great place to eat that my family loves!