When you are traveling, flying can be very expensive if you are just buying the plane tickets when you find out you need them or having to pay for things like snacks at the airport. There are many ways you can save money when flying and they are easy to do. Starting with the cost of your airline ticket all the way to your luggage fees and snacks!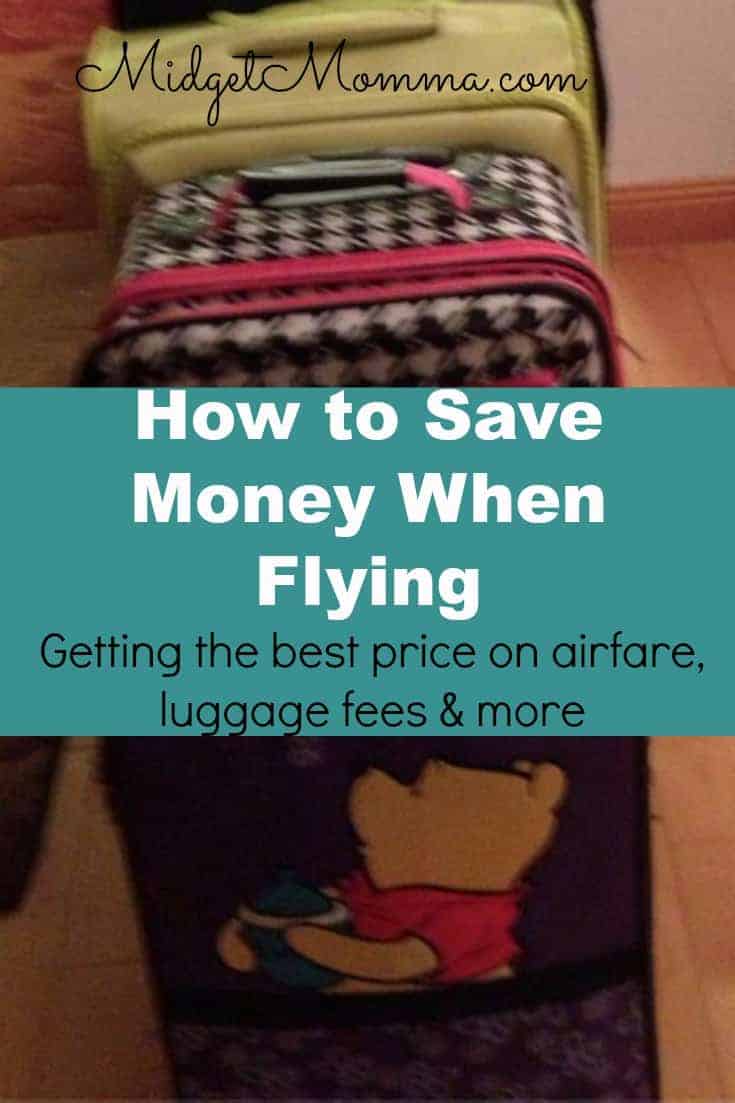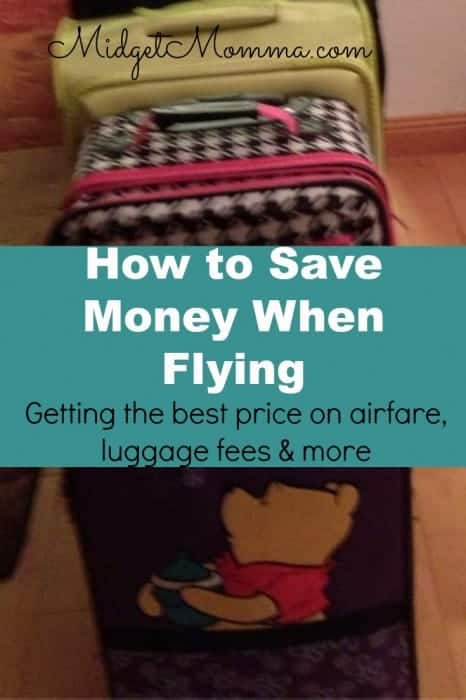 Tips on saving money when flying
Tips for buying your tickets at a great price:
6 weeks before your trip, on that tuesday at 3pm check the travel sites, this is when you will find the lowest prices on tickets.
If you miss the Tuesday at 3pm 6 weeks before your trip watch the prices of plane tickets for where you want to go for about 3 weeks, the prices will change each day, you will see the price change every. Watch for the lowest price and when you see it again buy your ticket.
Use places like Expedia, Orbitz, and Cheap tickets to find deals on flying.
Sign up for the airlines flying points programs. Many of the Airlines have programs that you earn points for flying which you can then use to get a plane ticket later.
Fly on Tuesdays and Wednesday, ticket prices are cheaper because those are the off days for flying.
When shopping for plane tickets you have probably noticed that as you shop the price goes up, clear your cookies every time you do a new search so it is not recorded that you have been looking for plane tickets:)
When flying to big cities, like Houston, New York City, Philadelphia ect look at the price of the ticket for both airports in the city or with in a short drive of the airport you are originally looking at.
Fly at off times, we picked tickets to Orlando that left at 8:45pm and got us to Orlando at 11pm. Our round trip tickets cost us $145 per person, with 5 of us it was $725 total. If we had picked the 7am flight home we would have saved even more and it would have only cost us about $130 a person round trip but for the extra $15 a person the 10am flight was better 🙂 And that was $725 for 5 people round trip! Add in the additional night at the hotel and it was $200. If we had left at a "normal time" like noon or 2-5pm we were looking at $75-$100 extra per person for the ticket. With 5 of us we ended up saving ourselves $300 going later at night and an extra night at the hotel.
Sign up for Airline points programs, when you are flying each time you fly you earn points that you can cash in later for plane tickets.
I don't normally recommend credit cards but if you find one with airline rewards, use your credit card to pay your monthly bills, pay it off each month and rack up points for free plane tickets.
Tips to save money when flying
Make a list of everything that you are going to need. Not forgetting things will save you money because you will not need to buy them when you are traveling.
Contact companies for coupons for products that you know you will use like food and drink items to bring with you. You will then be able to shop for free with the free product coupons (since many companies send free product coupons when you contact them with a compliment on their products). You will save money and space by having coupons instead of bringing the items with you. Space is valuable when you are traveling.
Bring an empty water bottle with you. You can not bring liquid through security but you can use a water fountain to fill up your water bottle.
Bring snacks with you for the plane ride, its much cheaper to buy and bring a box of granola bars with you then to buy just 1 at the airport.
Buy your gum before your trip, you will pay sometimes as much as 3 times the amount for a pack of gum at the airport as you would at the store.
Pack a carryon suitcase if possible, this will make it so you do not have to pay checked bag fees.
If you are a military family many airlines will let you check your bags for free
Here is a quick video on some of my tips for packing and saving money when traveling. Please excuse my awful hair and no make up, it was a late night when I made the video and was finishing up my packing.
If you can not see the video go here