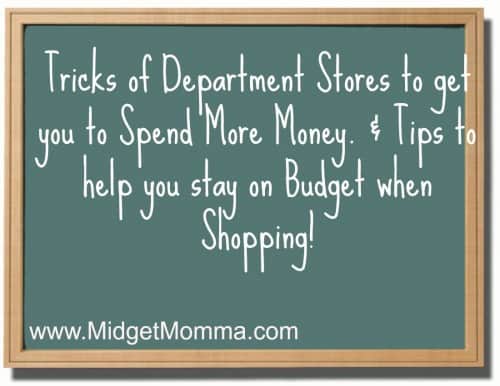 Tricks of Department Stores to get you to Spend More Money & Tips for you to Stay on Budget!
Don't Forget to Pin it
When you go into a department store you may notice that things are very bright and wonder why things are placed in certain places that make no sense well this is all for stores to keep you in the store and shopping longer.
Escalators: 
Have you ever wondered why in most department stores the up escalator and the down escalator are no where near each other? This is no accident, stores do this so as you are getting done with what you needed upstairs that when you go downstairs you have to walk through the whole store to go back downstairs and they are hoping that you see something else that you like as you are walking and buy it.
Separate Departments:
The same goes for why they have the woman's and mens departments separate from each other and when they have the kids clothing in one spot and then the shoes in another. I find it really annoying that I can shop in the woman's department and then have to walk across the store to get to the men's department but they do this for the same reason as the escalators, they want you in the store more and to see more so that you buy more.
Entrance and exits of stores:
When ever you walk into a store by the doors are always the expensive items, most times by the entrance way is the jewelry case or a purse section. Whenever I walk into Macy's the first thing I see is Coach bags and then to get to the mall entrance from Macy's I have to pass the make up and jewelry sections along the way. They do this so you see the nice stuff as you are walking in to get you to want to shop and they do it so as you are leaving they want you to rethink about what you had seen when you walked in. I have never seen and ugly sweater or ugly shoes by the entrance or exit of a store. They also make sure they have the perfume there because it smells good and good smells relax people.
Speaking of exits, have you ever noticed that is is super hard to find an exit, and there are no signs telling you where the exit is? Thats another thing that stores do to keep you in the store longer. As you wonder the store looking to leave you are going to see all the items that they want you to see and are hoping that you buy it.
Dressing Rooms
The clearance racks, while they are one of my favorite things to shop on have you ever looked around them? They have all the full priced really nice clothing near it and so you see those items as well.
The dressing rooms are another place where stores work on getting you to buy more, you have to walk through the whole store most of the time to get to the dressing room making you have to see everything else.
Lighting:
The stores are always well lite, but in the dressing rooms  it is always dim and awful compared to the rest of the store. The stores want you to see how nice everything looks on the shelves but once you are in the dressing room they want you to see it look good on you. Bright lights would make you see the flaws of what you are trying on and then you wouldn't purchase it.
Placement of items in the store:
The expensive items are eye level and the items that are cheaper are the ones that you have to bend over and look for on a shelf.
Overpriced drinks and candy at the check out- really it makes us think oh the clothing store is thinking about their customers when they have a drink case at the check out of a clothing store. Really they are placing them for while you are waiting on line you see it and think "Oh I am thirsty" or "I am Hungary" and then you buy the item no matter how over priced it is.
Here are some tips to help you when you are shopping in a department store and to help you stay on budget:
Go in the store with a list and stick to it.
When a sales person asks if you want help tell them exactly what you want. Don't say I am looking for a top as their goal is to get you to see expensive items and then make you want to buy other things by making suggestions to you of things you should buy.
When trying on clothing walk out of the dressing room and look in a mirror elsewhere in the store (normally there are a few right around the dressing room) that you can see the outfit you are trying on in real light.
Bring cash, leave the credit cards and debt cards at home. Handing over cash makes you stick to your budget more then just swiping a card.
Pay attention to how you got to the section you needed to get to. This will make it so you are not wondering the store trying to find a way to get out and then seeing everything you don't need as you are wondering.
If you know you only need a shirt and pants, don't grab a cart just carry your items. The more room you give yourself to "hold" items the more likely you are to buy more then you were intending.
Bring a drink in the store with you
Look on the bottom of the shelves for the items you are looking for
Join the newsletter
Subscribe to get our latest content by email.