My favorite in San Angelo was a local BBQ  place called Packsaddle BBQ , where I for the first time had Brisket and Sausage! It was delicious! I had never had BBQ before and the only place that had coleslaw that I liked was KFC,but this place was amazing. I am sad I didn't get a picture of the food to share it with you! It was $36 bucks to feed 6 people and we had left overs for 3 of us to have lunch the next day.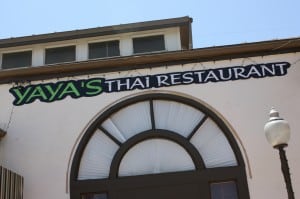 I also went to a local Thai place in San Antonio called YaYa's . It was my first time having Thai and it was AMAZING! I had lettuce Wraps, Chicken Satay and Pad Thai with Chicken and Thai Tea! It was all soooo good!  Mommy Mae and I forgot to take a picture of the Lettuce Wraps and Chicken Satay but I got pictures of the Pad Thai and Thai Tea, how good does that look? Trust me it was as good as it looks! We got the 2 appetizers and the Pad Thai and Sticky Rice with Mango to share and we each got a Thai Tea. This place was a bit more expensive, 36 for the 2 of us but because I saved money on many other things I was able to splurge and get a great meal with out feeling bad about spending money on great food!
My Thai Tea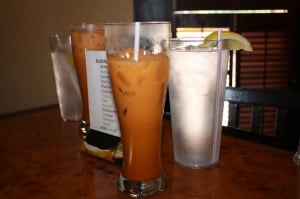 Our Pad Thai that we shared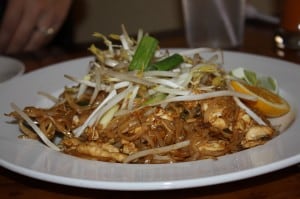 Sticky Rice with Mango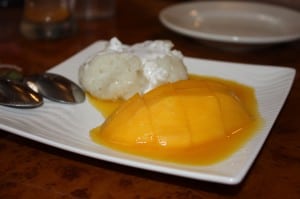 We also went to an awesome French cafe called La Madeline I had the Turkey Bistro and a Mango Iced Tea! It was delicious!
Being in Texas I had to try some real tacos, yes I love Jack in the Box tacos but I went to a place called Chipotle and they were the best tacos I have ever eaten!
And if you have never tried Bubble Tea you need to! I went to the Beverage Bar and got a Cherry Bubble tea Yummy!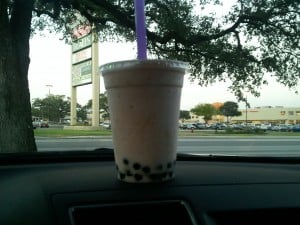 Because Mommy Mae is familiar with these areas I did not have to ask around as to where I should go to eat, but when you are traveling ask the locals where to eat, not only will the prices be lower the food will be amazing!
What are your favorite places that are local to you to eat?
This post may contain affiliate links. Please read my disclosure policy here