Valentine's Day is coming in just a few days and I thought that I would help you out with some ideas for Valentine's Day gifts other then the normal flowers and candy.
Fifty Shades of Grey Wine: Personally blended by Author, E.L. James, Fifty Shades of Grey Wine varietals include Red Satin, a decadent blend of cherry, cocoa powder creamy caramel and vanilla, and White Silk, which features floral aromas of lychee, honey and pear. Red Satin and White Silk are now available for purchase at www.FiftyShadesWine.com, Albertsons, CVS, Total Wine and More, Vons and other retailers for $17.99.
For fans of the award-winning television series, Downton Abbey®, this is the perfect way to make your special night personalized and classic. British period inspired Downton Abbey Wine helps to create a night full of grace and elegance. Varietals include Claret Bordeaux, which reveals hints of blackberries, raspberries and black currants and Blanc Bordeaux, which boasts notes of tangerine, apricot on a harmonious, crisp palate.
Planning an outdoor adventure for Valentine's Day? The PRO TREK watch might would be perfect. This water-resistant watch features new sensors to deliver higher reading accuracy and improved energy efficiency, as well as one-press access to a digital compass, barometric pressure and altitude, and temperature reading at your fingertips! Everything about these models is designed and engineered to make them essential pieces of outdoor gear.
Bath and Body Works Lotions and Bodywash
Indulge in the luxurious fragrance Forever Red, a passionate blend of pomegranate & red osmanthus with a sexy surprise of vanilla rum. This eau de parfum  is perfect for any woman who wants to smell irresistible. Or try, A Thousand Wishes eau de parfum  to warm her heart a thousand times. This festive blend of sparkling champagne, crystal peonies and almond crème delights every nose.
Bring your sweetheart on a trip to the most romantic city in the world with Paris Amour, a dreamy blend of French tulips with a pop of pink champagne. A spritz of the fine fragrance mist, a moisturizing body lotion  and a bubbly shower gel  creates the perfect head-to-toe gift.
Give your bestie a gift to pamper herself. The flowery Mad About You travel sizes shower gel and body lotionare a love-struck pairing of soft peonies & black currant kissed with creamy vanilla musk.
Mantry:
Each Mantry includes 6 full size artisan food products delivered to their door. Packed in a Handmade Wooden Crate and custom Manual detailing product stories and recipes.
Order by Feb 10 for your order to ship in time for Valentine's Day
Sharis Berries: Get a $15 for $30 Worth of Gourmet Dipped Strawberries and Treats from Shari's Berries here and then get a tasty treat for your Valentine
Custom Photo Mugs: These are fun to create and you can put a love message on them too!
Custom Photo Pillowcases: Make them your own and share your love for the one you love!
Fire HD 6, 6″ HD Display, Wi-Fi, 8 GB – Includes Special Offers, Black
Fast quad-core processor up to 1.5 GHz—2x the speed and over 3x the graphics performance of previous generation Fire HD for quicker apps and smooth videos
Beautiful 6″ HD display—Crisp, vivid HD display (252 ppi / 1280×800) with over a million pixels—perfect for apps, movies, TV, games, photos, and more
Front and rear cameras—Take photos or capture videos in 1080p HD with a rear-facing camera or Skype with a front-facing camera
No more worrying about storage space—Get free, unlimited cloud storage for all Amazon content and photos taken with your Fire devices
Best selection of digital content—Enjoy over 33 million movies, TV shows, songs, books, Android apps and games—including Facebook, Netflix, Minecraft, and more
Great for the whole family—Create unique profiles and set screen time limits for kids with Amazon FreeTime. Link two Amazon accounts and share books, games, apps, and Prime Instant Video content across all devices in the household
Stay connected and productive—Fast web browsing, email and calendar support including Gmail and Outlook. Plus, edit and view Office documents
Go on A Spa trip, even just to a local spa. Do it as a couple and enjoy the relaxation time together. You can find great deals on spa gifts here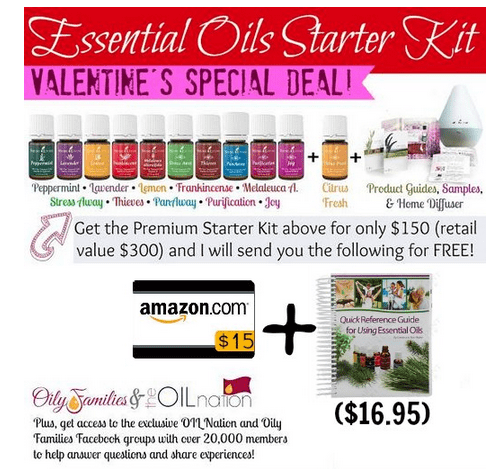 Young Living Essential Oils Starter kit (Which right now when you buy the Premium set you get $30 in freebies!)
Valentine's Steak Combo Pack from Omaha Steaks. Founded in 1917, Omaha Steaks has spent nearly a century perfecting its delivery system. The company flash freezes its quality meats to keep them fresh and flavorful, and then the custom-cut pieces are slipped into individual vacuum-wrapped bags for added protection and convenience once it's time to start cooking. Lastly, the gift combos are nestled into coolers filled with dry ice and plenty of unsolved crossword puzzles before they're ready to begin their trip to your door. Upon arrival, the combos offer an array of mouthwatering proteins complemented by delicious side dishes and desserts, all perfectly preserved and ready for cooking.
Choose from Three Options
$49.99 for a Filled with Love Pack SKU 46213 ($182 value)
Two 5-ounce filet mignons
Two 5-ounce top sirloins
Four 4-ounce Omaha Steaks burgers
Four 3-ounce gourmet jumbo franks
Two 4.5-ounce stuffed sole with scallops and crabmeat
Two 4-ounce boneless pork chops
One 16-ounce package of Omaha Steakhouse fries
Four 4-ounce caramel apple tartlets
Omaha Steaks seasoning packet
$59.99 for a Warm the Heart Pack SKU 46214 ($170 value)
Two 6-ounce filet mignons
Two 16-ounce packages of Omaha Steakhouse chili
Four 4-ounce Omaha Steaks burgers
Four 4.5-ounce chicken-fried steaks
12 gourmet franks-in-a-blanket
Four 3-ounce oven-roasted chicken breasts
Omaha Steaks seasoning packet
$69.99 for a Be My Valentine Assortment SKU 46215 ($221 value)
The Be My Valentine Assortment can also be picked up at an Omaha Steaks location. Find a store near you here.
Two 5-ounce filet mignons
Four Maine lobster tail halves (10-ounce package)
One 4-ounce package of seasoned butter sauce
Four 4-ounce Omaha Steaks burgers
Four 5.75-ounce stuffed baked potatoes
Two 6-ounce packages of asparagus spears with hollandaise sauce
Omaha Steaks seasoning packet
Four assorted individual cheesecakes:

One individual new york cheesecake
One individual turtle cheesecake
One individual Oreo cheesecake
One individual raspberry swirl cheesecake